A Passion for Producing
Jake McCarthy from The Mustang Gazette at Norwood (Mass.) High was a winner in Headliners in Education's February/March 2021 contest for Best Anything Else Story
(Jake McCarthy from Norwood (Mass.) High was a winner in Headliners in Education's February/March 2021 contest for Best Anything Else Story. Read the original story in The Mustang Gazette HERE.)
---
"It's something I can pick up anytime of the day no matter what is going on. It's like an escape."
Chances are, Norwood High School senior Kevin Sullivan is working on some type of music production right now. Finding his passion early, Sullivan started his musical journey at the young age of 14.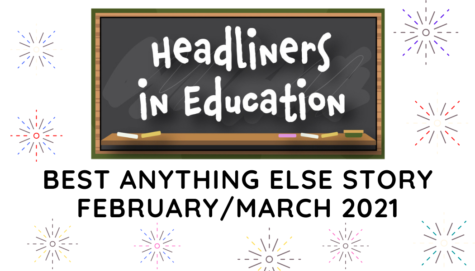 This interest didn't just start out of nowhere. Sullivan states that browsing through online videos severely influenced him to pursue this hobby.
"Watching people on YouTube DJ made me want to make songs like ones they were DJing, and that's what got me into production" he said.
From then, his experiences have only gone uphill. Starting as a fun hobby, Sullivan's work ethic and determination transformed his interest in music production to a serious passion that has brought him to meet all sorts of people.
"Kevin is a talented kid… he's a very outgoing and likeable kid." states Sullivan's producer friend Jason Mneyergy.
Myneyegy and Sullivan have only been producing together for a short period of time, but even with their time together, Mynergy says he sees something in Sullivan he doesn't see in a lot of people.
"He's not arrogant… I believe he's the local kid who's gonna make it. His work ethic is insane" he said.
Sullivan's work ethic over his four years of producing has gotten him involved in a variety of different opportunities. Out of all these opportunities, Kevin believes his most significant one is being one of the founders of the media and creative company Do Over Don't.
"Do Over Don't is a local media group and company that covers pop culture in New England. The goal is to be a platform for underground creatives and there's so much talent that's hidden locally – we want to be able to showcase that talent for as many people as we can" Sullivan stated.
When first starting up, there were doubts on whether or not the organization would go anywhere. However, with people like Sullivan determined to bring underground talent to the light, the company has gained a decent following within the few months of being around. A lot of connections have been made along the way and the early success with the company keeps Sullivan motivated to do more.
"It helped me to create a lot of connections for myself and I've only had great experiences with it. Being part of Do Over Don't makes me want to pursue my passion even more. It's even taken me to places like New York City."
With Sullivan's experience traveling to New York, he was able to visit Quad Studios located in the center of Times Square. Quad Studios has been around for quite some time and top-name artists have recorded their music in this environment.
"You had artists like Biggie, Tupac, Beyoncé, Michael Jackson and Post Malone record in there who have made absolute hits. It was awesome meeting the people who work there and being in an environment like that was pretty unreal." Sullivan says.
Already this early into his passion for music production, Sullivan has made a name for himself. While already on the right path, it wouldn't be a surprise if he makes it on the billboards one day.
Want to follow Sullivan's journey with music production and his company Do Over Don't? Be sure to check out their social media @ksullymusic and @dooverdont on Instagram.
–HiE–