Student Journalists Meet With Legislators About First Amendment Bill
Violetta Atocha from the Clinton Post at The Clinton School in New York City was a winner in Headliners in Education's March 2023 contest for Best Local Story
(Violetta Atocha from The Clinton School in New York City was a winner in Headliners in Education's March 2023 contest for Best Local Story.)
---
On Tuesday, February 28th, more than 50 teens from around New York state descended on the New York State Capitol to advocate for the passage of the Student Journalist Free Speech Act. This bill seeks to protect student journalists' First Amendment rights and limit the censorship powers of school administrators. Additionally, the bill protects journalism club advisors from professional retaliation after allowing students to publish content school administrators disapprove of.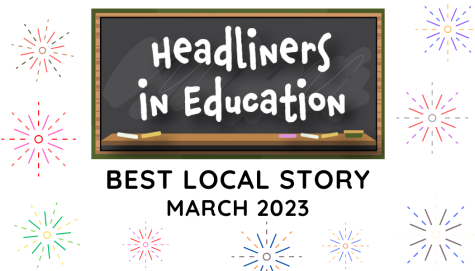 These student journalists, members of the student journalist advocacy group New Voices New York, met with legislators who have not yet guaranteed their support for the bill and sought to change their minds. As a result of the trip, four previously undecided senators and seven assembly members cosigned onto the bill, guaranteeing their support when it goes to a vote. 
This bill is currently being spearheaded by State Senator Brian Kavanagh and Assemblywoman Donna Lupardo. When asked why she supports the bill, Assemblywoman Lupardo said, "I had first-hand experience as a high school 'reporter' during the VietNam War, when discourse on difficult topics was banned. I strongly believe that ethically practiced and well-supervised student journalism is the antidote to unfiltered social media. This practice also encourages problem-solving, critical thinking, and media literacy skills."
So far, 16 states have passed this legislation which would restore student journalists' First Amendment rights back to the Tinker standard. In the late 1960s, a high schooler named Mary Beth Tinker wore a black armband to school to protest the VietNam war. She and her brother were suspended, and they sued, believing their First Amendment rights had been violated. They took their case all the way to the Supreme Court, which ruled in their favor and declared that students do not lose their First Amendment rights at the schoolhouse gate. However, in 1988, the Hazelwood v. Kuhlmeier case stated the First Amendment rights of student journalists are not violated when school officials prevent the publication of certain articles in the school newspaper. Hazelwood gives school officials the right to restrain or censor speech if they have "legitimate pedagogical concern". This vague language has led to a wide range of interpretations and the abuse of censorship powers. 
When asked why she went to Albany to advocate for this bill's passage, Beacon High School senior Roselyn Veras said, "I recognize the importance of student voices in journalism, and as I attend a school that doesn't experience much censorship, I realize the great benefits we have experienced from that. I see how that liberty isn't always extended to other schools and I want other schools to have the right to free speech."
In order for the bill to become a law, it has to be cleared by both legislative chambers' education committees, then be cleared by their rules committees.  Finally, the bill will be voted on by all members of the assembly and senate. If passed, it will then be signed into law by Governor Kathy Hochul. Mike Simons, an organizer of the trip with New Voices New York says, "We hope to have this bill being voted on the floor by June 1st this year."
–Originally published March 10, 2023–