"You Had Me At Ice Cream"
Piper Pinnetti from the Bullseye at Maize South High in Wichita, Kan., was a winner in Headliners in Education's February/March 2021 contest for Best Pandemic Story
(Piper Pinnetti from Maize South High in Wichita, Kan., was a winner in Headliners in Education's February/March 2021 contest for Best Pandemic Story. Read the original story in the Bullseye HERE.)
---
The phrase "It Couple" refers to a couple that has a relationship often sought after and is not only two cool people, but also serious #relationshipgoals where you find the perfect compliment to one another in a partner.
Maize South High's current "It Couple" may just be former Mavericks Alexus Childrey and Brandon Meyer.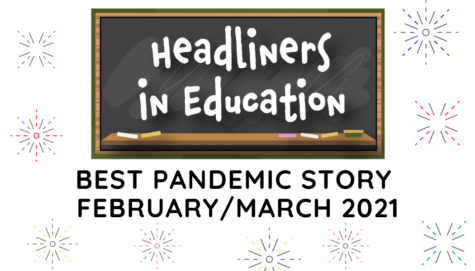 The pair met in Aaron Finck's Graphic Design class during fourth block. Childrey, a Maize South 2020 graduate, and Meyer, a Maize South senior went on their first date in April of 2019. They went to the Dairy Queen on Maize Road. Then, they went to their first prom together shortly after.
"I realized I want to ask her out when we were at Prom and we slow danced for the first time," Meyer said, "She leaned her head on my chest, and honestly I instantly fell in love."
A month later, May 27, 2019, the two made their relationship official and began dating. The young couple has been together for the past year and eight months.
"When I look at Brandon, I still feel the butterflies I had when we first started talking," Childrey said. "He is everything I have ever wanted in a partner and more."
When both were attending Maize South, they did everything together. Meyer, a varsity track runner and football player, played in the Friday night lights at the end of each week. Childrey was frequently on the sidelines dancing with the dance team and watching player #38. During the normal school day, they also spent time together between classes and whenever they could.
"We hung out in the mornings. Every once and a while I would surprise her with her favorite breakfast foods and her face would light up," Meyer said, "We spent Mavtime and our lunch together."
When her senior year prom was canceled for COVID-19 precautions, Childrey's sisters put together a fun prom at home for the young couple. The night was a one of Meyer's favorite memories and said she "looked stunning as always that night."
After graduating, Childrey began online classes at Wichita State University (WSU) to get her associates degree in Liberal Arts while also building her new photography business, Alexus Christine Photography. The COVID-19 pandemic has prevented Childrey a normal college experience and has given her the opportunity to study from home with online classes.
Between a pandemic, Childrey graduating, and Meyer's school schedule constantly changing, there has been numerous personal adjustments for the couple. However, even with restaurants and movie theaters shutting down around Wichita, the couple has still found ways to hang out and spend quality time together.
"If anything, I feel like COVID and the year 2020 has brought us closer together," Childrey said. "It was a time to draw closer to your loved ones and cherish every moment you have with them. Family, friends, your significant other."
The couple communicates together daily through calls, Face Timing, and texting. Their average date night is enjoying a good dinner together followed by a movie, however Meyer's favorite date with Alexus is "when she plays Call of Duty with me."
Before the pandemic closed down many entertainment venues and sporting events, the two traveled to Kansas City, Missouri to attend Chiefs games in 2019. Once businesses and venues begin to open up and COVID-19 protocol isn't as strict on the entertainment venues later this year, Childrey and Meyer want to explore more of Kansas and beyond.
"The next step for us would be experiencing more of what life has to offer," Childrey said. "Eventually I want to travel as a couple, move in together, and just have fun. I want to enjoy life with him right by my side."
This May, the couple will reach their two years mark together. With a national pandemic and lockdowns, graduations, college, and more, this pair can and will get through everything.
It's clear to see that the love between Brandon Meyer and Alexus Childrey makes each day feel like a Valentine's Day holiday.
"I feel starstruck by her, she is just so beautiful inside and out," Meyer said. "I'm one lucky guy."
–HiE–