Boating Is back In business
More people are visiting the reservoir inside Hopkinton (Mass.) State Park, but it's not at pre-pandemic levels yet
The 2010s tunes are playing on the radio, campers are running around, some playing four-square while others have a chin-up competition. Out on the Hopkinton Reservoir, five tiny, elementary school-aged children are wearing helmets and learning how to sail. There is camp happening, kids smiling, and this is all taking place safely, in real life. Not over a zoom call.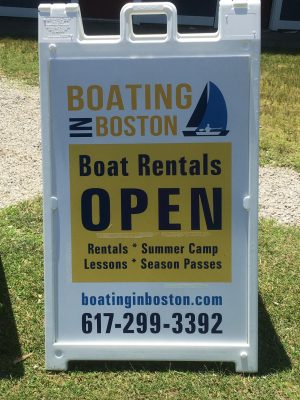 To many, this image is a reminder of the wonderful pre-pandemic world. To the veteran employees at Boating in Boston at Hopkinton State Park, this is not the pre-pandemic summer they remember.
According to site lead, Isabelle Koerner, before the pandemic, there would typically be around 800 to 1,000 people on site per day. This year, there are approximately 600 people daily. Only two or three days this year have there been the usual number of visitors.
Before the pandemic, there were around 100 customers on site at any given moment. Last summer, Boating in Boston had to cut capacity to 15 people on site; by the end of the season, capacity had been increased to 50 people. 
Jeffery Wright is the main instructor at Boating in Boston. He was a camper for 11 years before becoming an employee.
"I was at Boating in Boston before it was 'Boating in Boston,' " he said.
"Last year, I had maybe 10-15 private lessons in total. There were no group lessons."
Before COVID, there were 2-3 lessons a week. This year, a lot of people are excited to get back out on the water and learn a new sport.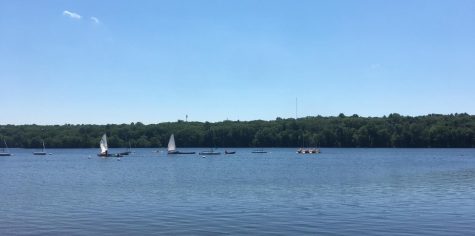 "Right now, I am teaching at least one lesson every day," he said. "There are definitely a lot of people taking lessons."
Even with all the restrictions last year, Boating in Boston was still able to have in-person camp. The camp was only able to have 20 kids at a time to maintain 6 feet of social distance, and masks were required.
"
There are definitely a lot of people taking lessons.
— JEFFREY WRIGHT, Boating in Boston
"The heart of camp was still there, but it is great to welcome more campers back," said Isabelle.
This year, a group of campers can hang out around a picnic table. Last year, there were only two campers allowed at a picnic table.  Right now, there are about 40 campers, which is the same number as before the pandemic.
Even though Boating in Boston is still different than it was before COVID, it does not take away the joy the employees have working here. This year is Nate DeGregorio's first year working for Boating in Boston.
"I enjoy working outside by the water," he said. "It is a fun summer job!"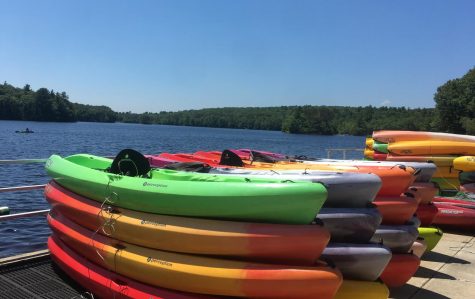 – July 8, 2021 –