Lasagna Love: Spreading kindness in every bite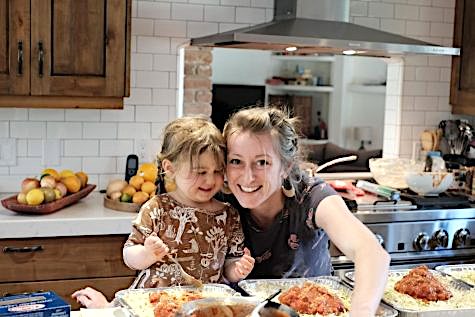 For two years now, the organization Lasagna Love has rippled across the globe with a goal to raise spirits through comfort food. 
It all began when founder Rhiannon Menn was scrolling through Facebook in March 2020 at her home in San Diego. As a mother of three, she kept in contact with other parents through social media about how they were holding up during the pandemic. She was devastated to see post after post of struggling families sharing their financial and health hardships. In response, Menn posted her own Facebook message offering, "​​my toddler and I are making some extra lasagnas this weekend to drop off to anyone who needs them."
Menn discovered, along with 10 volunteers, how a simple act affected an entire community. This small piece of charity lit a bonfire and rose to what she coined an "international movement of kindness" known as Lasagna Love.

Menn's personal project has grown to an international organization with more than 35,000 volunteers and more than 250,000 lasagnas delivered to 1 million people. Through a link on the Lasagna Love website, people can request a lasagna for themselves or someone they think is in need of a home-cooked meal. 
"The best part of the organization is that we don't judge and we're working towards erasing the stigma of raising your hand and asking for help," said Andrea Scullin, the group's Massachusetts regional director.
The process is a few simple steps. Upon the request of a lasagna, the assigned chef will reach out to the recipient and inquire about any allergies or limitations and then begin to cook. Usually, the recipient can open their door within a week to a fresh, cheesy, homemade dinner. 
For Massachusetts recipient Taylor Warren, she sought out comfort in a home-cooked meal after falling ill to COVID-19. After many days of frozen food or takeout, she was thankful to enjoy a warm lasagna for that evening's dinner and the following days' leftovers. 
"I was just so relieved," Warren said. "It tasted extra good knowing someone went through all the effort to make it for [me]."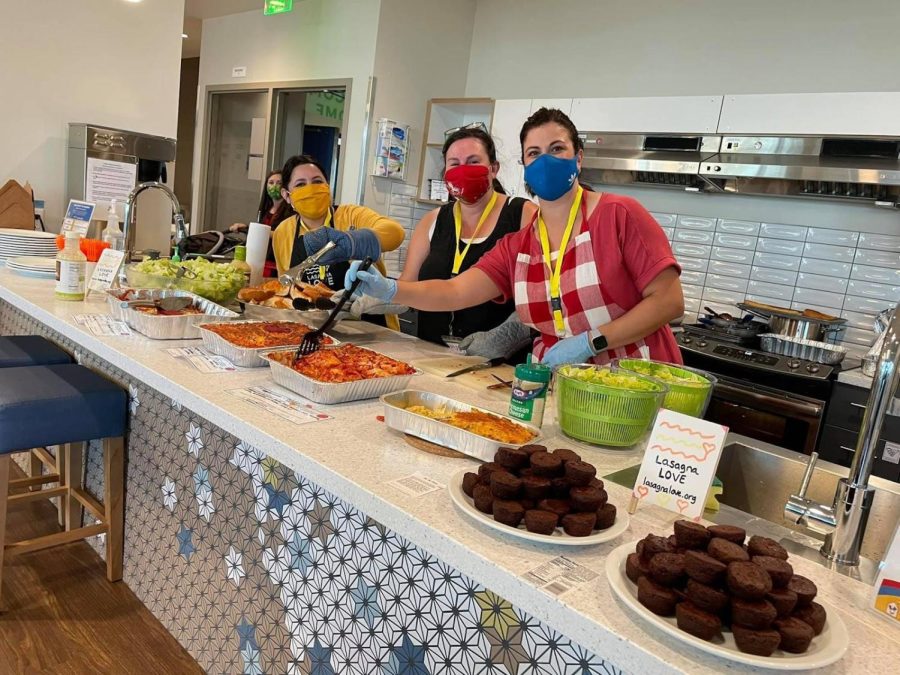 For those in temporary hardship, receiving a lasagna can serve to empower them to become a volunteer. In Warren's situation, she was determined to pay it forward upon feeling the strength of the warm gesture, and has since become a volunteer.  
"Knowing how much it brightened my week and how it made me feel, it made me want to do the same thing for other people," Warren said. 
Besides the feeling of a good deed, volunteers for Lasagna Love also find pleasure in the welcoming and compassionate community. Volunteers from all different backgrounds unite to cook together, share messages on the Lasagna Love Facebook page, and participate in other philanthropic activities.
"
Knowing how much it brightened my week and how it made me feel, it made me want to do the same thing for other people. 
— TAYLOR WARREN
"Everyone at Lasagna Love is just so kind," Scullin said. "We're all working towards our shared mission of feeding families, spreading kindness, and strengthening communities, and everyone's a volunteer. We're all giving it all that we can and doing it together."
This sense of community spread to the internet, popularizing both the Lasagna Love Instagram and Facebook pages. With social media strengthening outreach efforts, many people jumped at the chance to become a part of the movement, telling their friends and localizing Lasagna Love. 
"I recently heard about Lasagna Love from a friend and was immediately drawn to their emphasis on compassion," Wayland, Mass. resident Carol Spann said. "It's a good model for helping when you can and accepting help when you need it. These alternating acts unquestionably strengthen a community."
Another Lasagna Love volunteer from Wayland, was compelled by the passing of her brother to offer her services in order to help other people. Empowered by others' kindness, she decided that this would be a great opportunity to honor his memory. 
"My brother was such a giving person and I did it because of him," said the volunteer, who asked to remain anonymous. "He made me think life is short and you really need to do things for other people. I felt such a closeness to him while I was doing this and it was just a really cool moment that I'll never forget."
Confidentiality is emphasized at Lasagna Love. Each chef is only provided the recipient's first name and last initial, along with an optional short description of a reason for request. Upon making the dish, the deliveries are contactless, unless the recipient chooses to exit their home and receive it. 
"I like that it's private," the volunteer said. "I like the fact that it's a community of people that you know you're not doing it for recognition, it's really about helping somebody."
But cooking lasagnas isn't the only way to get involved. Lasagna Love additionally offers a Kindness Pledge on their website, a chance for visitors to promise to uphold Lasagna Love values without the requirement of any cooking. This pledge to spread kindness and help others comes at no fee and only requires a name and email address. 
"At the very core of Lasagna Love rests a mission of goodwill; simple acts of love and kindness from one human to another," the Kindness Pledge reads. "The Kindness Pledge is a way for anyone and everyone to become a part of the movement – no cooking required!"
Everyone at Lasagna Love has a different story, but they all seem to agree on one thing: It is always good to spread kindness, and a warm, comforting lasagna might be just the right way to do it. 
"If you have the means, just try to spread kindness," a volunteer said. "For Lasagna Love, it's not really about the lasagna. Sure it's a comfort food but it's more about the gesture of making something and bringing it to someone. It gives people hope that people aren't all bad."
— Sept. 8, 2022–