Legends of rock perform in Nashville in a satisfyingly wicked style
Joan Jett, Def Leppard, and Mötley Crüe explode on Nissan Stadium stage, entertaining old rock-heads and young concert-goers alike
After a long and insufferable rain delay, the crowd was finally allowed to sit in the seats within Nissan Stadium to experience Joan Jett, Def Leppard, Poison, and Mötley Crüe.
These four bands came to Nashville on June 30 to play to a near-sellout crowd of 50,000, consisting of old rock-heads and young concert-goers alike.
Personally, I have never been to Nashville, so this concert felt like the perfect opportunity for me finally visit the city.
Unfortunately, Poison was unable to perform that evening due to their frontman, Bret Michaels, being hospitalized with illness. Despite this bump in the road, the show went on like normal.
I listen to a lot of old-school bands that my father might have listened to back when he was in high school, so this concert felt like it would be right up my alley, and I can definitely say it did not disappoint.
Joan Jett and the Blackhearts opened the concert, and the crowd quickly came to life with cheers and applause. Joan Jett had a solid set, playing hits like "I Love Rock and Roll" and "Bad Reputation," while also playing some other songs I hadn't heard before.
The entire band had extensive energy and Joan Jett sounded surprisingly pretty good. The way she interacted with the audience using her songs and little stories about her career felt genuine and heartfelt. It is something people who were there will remember for a long time. I certainly will.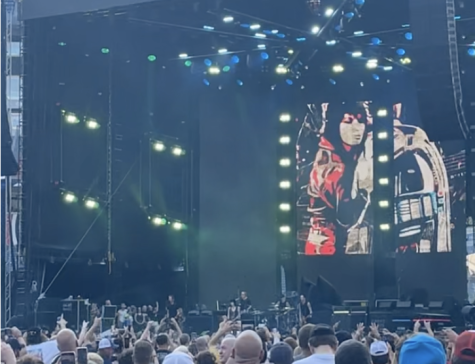 Joan Jett and the Blackhearts were a solid show opener; their all-black outfits and flashy, colorful graphics really meshed well with the music they were playing and the image they were portraying of themselves. However, they could have been overshadowed by Def Leppard and Mötley Crüe because of the massive fan bases and production values behind the two bands.
I believe that people should give more credit to her because after all of these years, Joan Jett and the Blackhearts are still a great act to watch and listen to, and after experiencing that set, it made me want to go and pick up one of their records.
Def Leppard was the next act to play, and I will be honest, while I do like Def Leppard and their music, I'm not as huge a fan of them compared with other bands, like Mötley Crüe.
"
Joan Jett and the Blackhearts are still a great act to watch and listen to, and after experiencing that set, it made me want to go and pick up one of their records."
I do listen to their music, but their only song I really listen to often on my music rotation is "Photograph," which they played to close their set. Also, I think "Pour Some Sugar On Me" is a little overrated in my opinion.
Despite all of this, I was really impressed with how well they performed during their set. They looked like they were dressed fresh out of the 1980s and all the strobe effects and graphics they put out on stage were eye candy to audience members.
They also played a bunch of songs from their prime era but also various newer songs as well, which was a good mix.
The production value, from the flashing red lights, to the rumble from the snare drums, was also incredible. Everything shown on stage and on screen felt like a collage, reminiscing on the band's hits throughout their career. 
Seeing all the graphics and light effects flash during their performance felt like being a kid listening to the radio, imagining the band performing. Best highlight of their entire set for me was when their drummer, Rick Allen (who only has one arm), performed a snarly drum solo.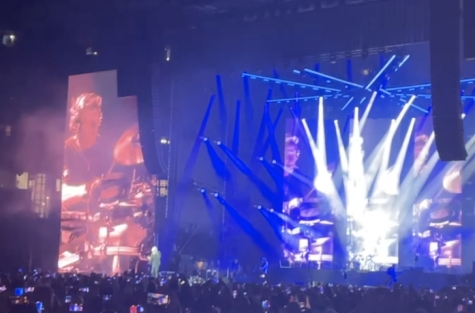 Overall, I enjoyed Def Leppard's show more than I thought I would, and I am glad that I got to experience it firsthand. They definitely still have a kick to their sound and can, hopefully, crank out great music for years to come.
Mötley Crüe performed as the last act, and they opened their show with effects and a fake newscast similar to what you would see in "The Purge." I thought was a good touch.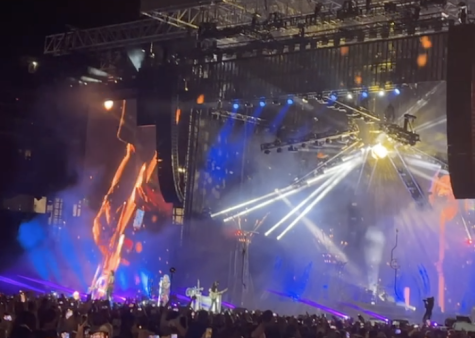 There have been complaints that Mötley Crüe may have gotten a little too old for live shows. Obviously, they just do not sound like what they did back in the day. However, being the constraints that I am, I would say I thoroughly enjoyed their entire set.
Was Vince Neil's voice bad? Yes. Did some of the humor and production felt like something an edgy middle-schooler would come up with? Yes. I didn't really mind, though, because their set, in my opinion, was super entertaining.
Hearing them play "Live Wire" live (no pun intended) gives you an adrenaline pump that few other bands could with their music. The same can be said when they played "Kickstart My Heart" to close the show.
Yes, they are probably past their prime, but they at least try to put effort into their performance. I would rather listen to a band who cares about their act than one that does not, and that is what I felt when I was in the stands, watching Mötley Crüe play songs like "Shout at the Devil."
For someone who cares about the performance, maybe they will have an issue with it, but the entertainment value was off the charts, and I applaud Mötley Crüe for concluding what ended up being a grand welcome to Nashville.
— July 20, 2022–