Phoebe Bridgers rocks out during her second night in D.C. on the Reunion Tour
Red strobe lights flash back and forth. A luminescent projection of skeletal hands covers the stage's back wall. Through the overhead sound system, Disturbed's cacophonous rock hit "Down with the Sickness" fills the venue. Screams abound as Phoebe Bridgers and her band join the Anthem stage in Washington, D.C. 
Although the heavy metal that welcomed Bridgers to the stage clashed with the singer's trademark indie-folk, Bridgers proved to a sold-out crowd of June 12 concert-goers that she is a rocker in her own right.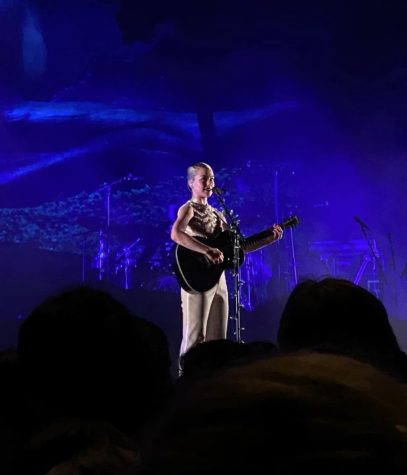 The audience was primarily made up of teenagers and young adults, many of whom sported Doc Martens and canvas tote bags. Those with general admission tickets created a "pit" that extended to the venue's seated section — no easy feat, considering the Anthem's 6,000-person capacity.
Opening act Claud charmed the crowd with mellow bedroom pop tunes like "Cuff Your Jeans" and "Soft Spot." The audience even got a preview of their most recent single, "Go Home!," before the song was officially released on June 17. 
An hour later, Bridgers started her set with a performance of "Motion Sickness," her most popular song to date. The second track on "Stranger in the Alps" describes Bridgers moving on from a toxic relationship. The song's desolate electric guitar riffs matched Bridgers's somber resignation as she sang, "I'll be glad that I made it out, and sorry that it all went down the way it did."
For the remainder of the concert, the setlist generally followed the tracklisting of "Punisher," Bridgers's newest body of work, with a few songs interspersed from her debut album. Her white crocheted skeleton vest was an ode to the cover of "Punisher," where Bridgers is shown wearing a black and white skeleton suit.  
She is best known for her stripped-back guitar ballads, and her acoustic performances did not disappoint. "Funeral," a gut-wrenching track that chronicles Bridgers's experience with depression, awed audience members in silence. The melancholic yet hopeful "Graceland Too," a song about watching a friend struggle, took on a more bittersweet approach when performed live. 
"This song is a wish, which makes it very sad to me," Bridgers explained. 
"
This song is a wish, which makes it very sad to me.
— PHOEBE BRIDGERS
However, Bridgers performed plenty of non-acoustic tracks. "Kyoto," one of the first songs in her set, had audience members passionately screaming, "I'm gonna kill you, if you don't beat me to it," during the chorus. The song's dark messaging was disguised by the crowd's frenetic moshing. 
"I Know the End," Bridgers's last song before the encore, was another one of the show's highlights. The track begins with Bridgers singing about returning home after touring ("There's no place like my room") and crescendos into a description of the apocalypse ("Yeah I guess, the end is near"). At one point, Bridgers and the audience devolved into emphatic yelling as she began an intense electric guitar solo, leaning across the stage. 
Two of the night's hidden gems were performed back to back. Bridgers captivated the audience with her performance of "Scott Street," a reflection on an old relationship. The song's outro was replete with serene "oohs" (vocalized by Bridgers) and a haunting instrumental. The second was "Savior Complex." According to Bridgers, the "Punisher" deep cut details what happens "when you romanticize someone at the beginning of the relationship." Unafraid to poke fun at a partner's melodrama, Bridgers complained about their "crocodile tears" as well as their bad habit of "smoking in the car."
Saving the best for last, Bridgers's encore included an acoustic rendition of "Georgia," a fan favorite from "Stranger in the Alps." Bridgers truly dazzled the stage; she delivered a heartfelt performance while donning a glittery cowboy hat.
"If I fix you, will you hate me?" Bridgers asked a reverential crowd, whose answer to that question would clearly be "No!"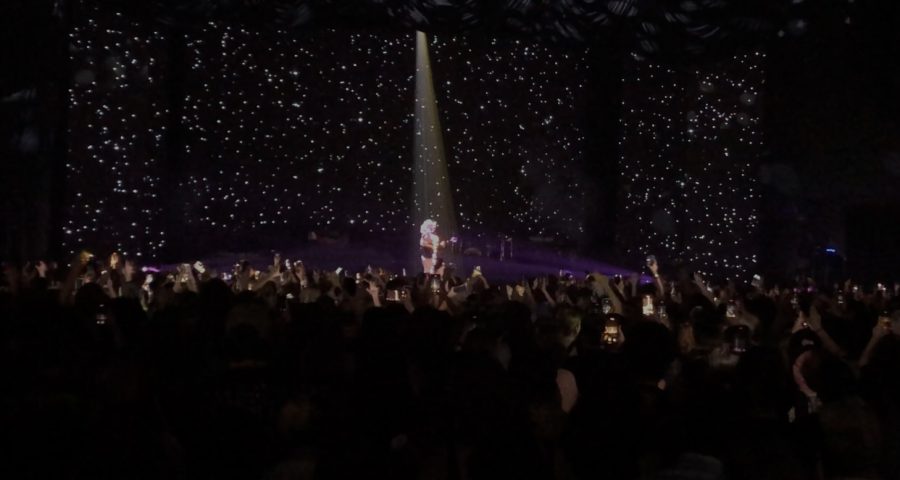 –June 26, 2021–