"If you want to succeed, you must drive that vehicle of success yourself. When you get to campus, don't hit the brakes. Put your foot on the gas."
Those were the words of political reporter Cassie Semyon during a recent meeting with the Headliners of Summer newsroom, urging student journalists to be proactive on their career journeys.
Instead of waiting for opportunities to come their way, high school and college students must take the initiative to achieve what they want.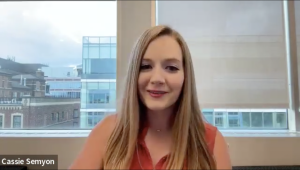 Headliners of Summer, a free worldwide summer journalism program from nonprofit Headliners of Education, often invites journalists and other individuals within the media industry for Q-and-A sessions, where they can share professional development tips with students from across the globe. Previous guests include Caolimhe and Gerard Donnelly of Legitimate, a networking and productivity app for journalists. At a meeting Aug. 9, Semyon talked about how her self-driven approach to her career allowed her to be the professional she is today.
Although Semyon knew she wanted to pursue journalism after graduating high school, she was concerned because she did not have experience. So, when she got to college, she took every chance she could to build her resume and expertise.  
The Temple University alum joined campus publications like TU TV at Temple and the Temple Update, tediously applied for scholarships and internships, and regularly mapped out her goals. This allowed her to become adept in producing newscasts, using Adobe Creative Suite and other broadcast journalism skills. It also allowed her to land positions at NBC, ABC, and her current station, Spectrum News, where she covers Congress's California delegation, the White House, and other subjects.
Despite not starting with much footing in journalism, Semyon's dedication contributed tremendously to her prosperity in the field, which is why she encourages students to be self-motivated in their professional development.
"Take a look around you to see what opportunities you do have and take advantage of the ones that will set you up for success," the 26-year-old Pennsylvania native said.
Take a look around you to see what opportunities you do have and take advantage of the ones that will set you up for success.
— CASSIE SEMYON
She also advised students not to be afraid to try new things when thinking about their future. In her previous position at WBOC-TV in Delaware, Semyon created play-by-play sports highlights and realized that she did not want to do it professionally, despite her love for sports. Yet, her interest in political news solidified into a passion because she thoroughly enjoyed her political journalism internships and undergraduate experiences covering the 2016 presidential election with TU TV.
"If you are interested in it, go for it," she said, adding that choosing a profession can be like trial and error. "Push yourself outside of your comfort zone because you'll never know if it's something you want to do or that you're interested in unless you do it."
When reflecting on what about her career and job resonates with her the most, Semyon said that she is happy to know that all her hard work is paying off. She is honored to work alongside other journalists she admires, cover politics and learn new things daily.
"The fact that I am here and living my dream, and I get to share everything with people like you all," she said. "That's the most impactful."
–Aug. 15, 2023–
Story continues below advertisement