During their performance on July 15, all members of the Soul 2 The Bone band really proved their music goes straight to the audience's soul, making people dance like nobody's watching. The band had been a crowd favorite ever since it formed 10 years ago, and it proved its value once again during one of the Saturday night free concerts in Schaumburg, Ill.
"
The energy is driven from the people. We try our best to make sure that we match the level of the people.
— JOHN WILLIAMS, Soul 2 The Bone
Everyone – from toddlers to older couples – enjoyed the night. As the show progressed, more and more people stood up to dance and sing along to the music. People arrived two hours early to grab good spots. They bought pizza and hot dogs from the food stands and sat down in their seats, enjoying a dinner with friends and family, excited to vibe to music they knew would be good.
The performance began with instrumental music to draw the audience's attention. Then, the songs started. 
As the show went on, the band took requests from the audience as a way to connect with their fans.
"Some songs were on our set list, some songs were not on our set list," John Williams, the band leader, said, "I just wanna make sure that I implement those to the best of our ability. I heard 'My Girl' 30 times out there so we played 'My Girl.' "
Soul 2 The Bone undeniably adapted to its audience, playing what would engage the people in the crowd, really trying to connect. 
And that was exactly what the band was made for.
"The premise of this band was to be able to play all styles of music that catered to everybody," Williams said. "We wanted to make sure everybody felt engaged, and once [they are], they become followers."

The band's flexibility across genres helped it get more gigs. Having the ability to play various genres of music doesn't only help engage the audience, though, according to Williams. When the band was formed, its flexibility helped get more gigs, Williams said, because some clubs weren't allowing African-American bands to play music in them. 
"We know how to play a variety of music, so we could fit in a little bit more," he said. "So it makes it hard for them to tell us, 'You don't play what we're looking for.' "
The band plays anything and everything — whether it be rock, disco, jazz, blues, or gospel.
"We're expanding just to make sure we're a perfect fit for a lot of different things. so people can't say. 'Well, you know what, I can't hire them,' " Williams said. "But why can't you hire them? What's the reason? I'm trying to make that reason null and void."
From the audience's perspective, the energy and atmosphere was unmatched. The band members became one with the audience, singing with them and not at them. Williams explained that this was intentional.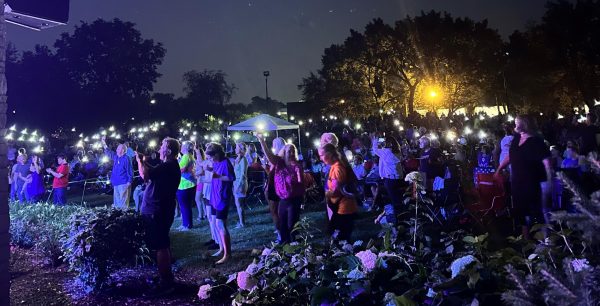 "We try to make sure that we connect," he said. "I think that connectability from the audience is really important and, once you do that, you got that give and take. You know, you saw everybody light their phones up, lighting them. I mean, how many bands can command that?"
The band was energetic, the members feeling the music in their souls just like their audience.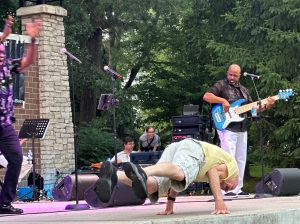 "The energy is driven from the people," Williams said. "We try our best to make sure that we match the level of the people. And with that in mind, our singers are characters within themselves." 
Matching the audience's energy and catering to the crowd's interests is what the band intends to do every time they go up on stage — and it definitely did not fail to achieve its purpose in Schaumburg. Audience members not only enjoyed the show; they became part of it. People showcased unique talents like doing the splits or a planche on stage, things that were completely unexpected but undeniably memorable.  
"People coming up on stage, just having a good time, and just participating, showing us their energy level of appreciation of what was going on [was really memorable]," said Williams. "You're like, 'Wow, OK, that person, 81 years old, he was feeling awesome.' And then the young lady who came up and did the splits. We weren't expecting that! We weren't expecting that at all, but it was still just wonderful [and] unexpected."
The show ended after another audience request, and Williams shared the endmost goal of Soul 2 The Bone.
"Hopefully from the growth that we're doing, we will get a venue of our own," he said. "We just want people to really just enjoy the music, enjoy the music, enjoy the fun, and recommend the place to everybody."
–Aug. 11, 2023–

Story continues below advertisement