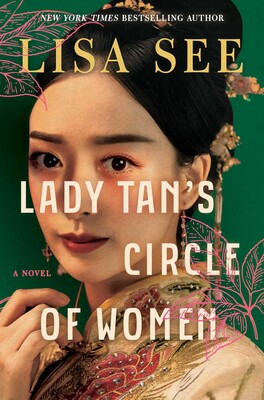 "When a girl, obey your father; when a wife, obey your husband; when a widow, obey your son." 
From a young age, Tan Yunxian already knows her place in the world as a "proper Confucian woman" in 15th-century China, as well as her responsibilities in it: marry well, be a good wife, and give birth to sons. 
Lisa See's "Lady Tan's Circle of Women," which was released June 6, is based on a real-life woman born into an elite family during the Ming Dynasty. The novel not only unveils the intricate lives of women confined within the grand walls of imposing Chinese mansions, but also highlights the significance of their interconnectedness and friendships. 
See establishes in her novel the tenderness and importance of female friendship and togetherness. Yunxian is surrounded by a circle of women her whole life — hence the name of the book — who help her succeed, which profoundly highlights the importance of love and closeness. Yunxian has a rough start with many of the new women in her life, but her strengthening relationship with these women around her feels encouraging, like a warm hug. 
When her mother (referred to by her children and servants as "Respectful Lady") dies from a foot infection at a young age, Yunxian is sent to live with her grandparents at the Mansion of Golden Light, where she learns Chinese principles of medicine from her doctor grandparents.
Story continues below advertisement
There she also meets her first friend, Meiling, the daughter of a midwife who will follow in her mother's steps. Despite their indisputable class divide (midwives are looked down upon because of their frequent contact with blood), the two form an everlasting bond, which is taken from them when Yunxian is sent out into an arranged marriage. 
At least that is what the synopsis of the novel states. However, Yunxian and Meiling's friendship is not given a chance to sufficiently develop before it is forcibly stopped by Yunxian's marriage. Their separation does not create hope within the reader for them to rekindle their friendship, nor does it seem to create that feeling for Yunxian herself. Yunxian mentions missing Meiling many times after she is sent to live in her marital home, but because the bond between them is not developed into a bond that the closest of friends would share, it is not clear why Yunxian misses her. 
If the author had simply allowed for Meiling and Yunxian to spend more time together and become close after meeting, it would have been much more realistic for them to miss each other. Instead, See has mostly written about Yunxian and her grandmother's bond, and seemingly has forgotten to write enough about Yunxian and Meiling. 
Yunxian has a rough start with many of the new women in her life, but her strengthening relationship with these women around her feels encouraging, like a warm hug.
Something the novel does provide, though, is intriguing information about Chinese medicine and history. However, too much of this information makes the novel feel partly like a research paper. It is impressive just how much research See seems to have put into her novel, and all of it is fascinating to learn, but does not offer any depth to the story. It feels as though See produced too much research for this novel, and couldn't bear to not include all of it. 
A few times, characters mention facts about Chinese wars and ruling dynasties. However, these quotes seem to offer nothing to the plot of the story and it isn't clear why they are mentioned. At a certain point, a character says, "How lucky we are to live during the age of the Great Ming. Our country suffered through centuries of Mongol rule, but Zhu Yuanzhang drove them out, and became the first Ming emperor." While this quote does make sense in the conversation this character is in, it is distracting to the reader and adds nothing to the story.
On a more positive note, the novel does an excellent job of transporting the reader to where it is set. The enthralling writing See has created makes the reader feel every emotion Yunxian feels, effortlessly crafting her environment in the reader's mind and vividly describing the anguish of horrific traditions like foot binding in the same light as Yunxian experiences them. 
And despite the excessive amount of information that is provided, the novel is extremely enlightening while being entertaining at the same time: one does not have to have an interest in medicine to be captivated by some of the facts this novel provides about it; a person does not have to be interested in female history to be simultaneously horrified by and engrossed in the life of a woman in ancient China. Constant new settings, dialogue between antagonizing characters, and unfolding mysteries and conflicts make this story an entertaining journey. 
See's novel is comforting, evocative, and captivating. Though it does have its flaws, it is unquestionably worth a read. 
–July 6, 2023–