The last stop on this trip was Edinburgh, Scotland. My sister and I were here for five whole days. It was absolutely beautiful with mostly sunny weather, which was great!
The day we flew in was kind of a slow day because we had gone clubbing the night before and we knew we had a lot to do in the next few days. We walked around a tiny bit and we found places that we could eat. On our second day in the city, we visited Edinburgh Castle, walked The Royal Mile, and did some shopping 😉 We ate lunch at a really good sandwich shop called The Thistle Shop Cafe and I had a brie cheese and bacon toastie.
We did a lot on our third day in Edinburgh, including The Royal Botanic Garden and the National Galleries of Scotland. We met these amazing girls in our hostel from Australia, and we thought it would be fun to go and get a quick tattoo, so we spent the morning trying to find a shop that had time for us. Sadly, no one was taking walk-ins, so we said that Dominique and I would get ours on Thursday, and they would get there's on the next stop in their trip, which was Italy.
After the tattoo extravaganza, we started by taking the bus to The Royal Botanic Garden and we spent about an hour and a half there, walking through the gardens before stopping to read for a bit at the end. We then made our way to The National Galleries of Scotland. We stopped at this really cute food shop in the plaza of the Galleries and we both got a crepe 🙂 We visited The National Galleries of Scotland and then we spent time shopping after that.
On our fourth day in Edinburgh, my sister and I did a tour of The Highlands. It was a beautiful experience, and I recommend anyone who is in Scotland to do a tour. On our last full day in Scotland, we started with Arthur's Seat in the morning, and then we spent the day doing homework and hanging out. My sister and I did go get tattoos, which was very exciting 🙂
Overall, I will forever recommend visiting Edinburgh to anyone who's nearby.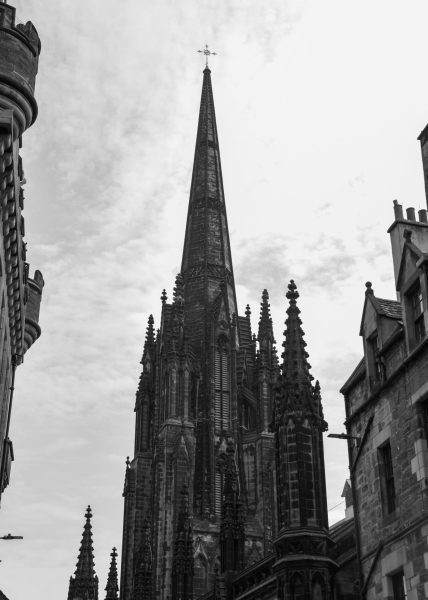 ---
As a photographer, seeing another artist doing whatever their passion is amazing. I don't know why these photographs are some of my favorites that I've ever taken, but I think being able to look into someone else's vision in their artwork is a phenomenal thing. The colors, the composition, and the fact that everyone respected his artistry was amazing.
---
My sister and I woke up on our last day in Edinburgh at 4:30 a.m. to hike Arthur's Seat. It was a very sunny, cool morning, which was really nice, and the sunrise was absolutely gorgeous. Walking down The Royal Mile that early in the morning when no one else was out was truly great. It was very relaxing, and, as a photographer, it was delightful to take photographs without other people  around.
What's really funny about this hike was that we didn't actually end up doing it because my sister strained a muscle and because I didn't eat (since it was so early) I ended up not feeling too well within 15 minutes. So, we both stopped at a coffee shop on our way back to our hostel (CoDE Hostel, The Court) and we went back to bed 🙂
---
As I mentioned in my previous story, I started a photo series of doors on this trip. This series was something that I've always wanted to do. It's nothing too special, but I took a picture of 15 different doors throughout this 10-day trip in Ireland and Scotland. I've always loved architecture, and I grew up with my mother always pointing out how nicely the walls were made in a city or how nice different architecture was. My mother grew up in France, so whenever we visited this would be a topic of conversation, especially when we visited the older villages and castles. I thought she would enjoy this series a lot. Below you will see the last four photographs of this series.
–July 28, 2023–
Story continues below advertisement