Come on Barbie, let's go eat in NYC!
Malibu Barbie Café pop-up experience in New York offers plenty of food, photo ops, and fun
Have you ever wished to visit Barbie's Dreamhouse as a kid? Well, look no further than the Malibu Barbie Café Pop-Up that has been making waves in across New York and Chicago. 
Located on 19 Fulton Street in New York, the cafe's hot pink colors can be seen from blocks away. While waiting for the Barbie movie to come out July 21, fans have the opportunity to visit the café to soak up rays of Malibu sunshine, eat food, and take photos. From May 17 to Sept. 15, fans have the opportunity to enter Barbie-landia in the NYC and Chicago. This café experience is an excellent promotion for the upcoming movie and is a catalyst for fans to immerse themselves in the franchise.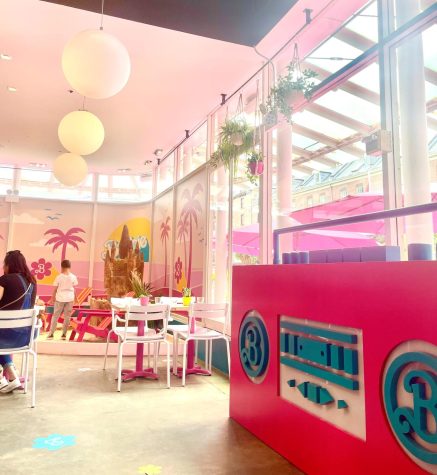 I had the opportunity to visit the NYC Pop-Up with my friend, where we entered the whimsical dreamscape known as Barbie. 
Bucket Listers — a company that has created other pop-up experiences such as The Golden Girls Kitchen ("Golden Girls") and Saved By the Max ("Saved by the Bell") in NYC and Chicago — has created this Malibu Barbie Pop-Up. Pop-up experiences are a great way for fans of any franchise to feel like they are in their favorite book, movie, or TV show because fans you are placed in an area that includes all of the little details and Easter eggs that made people you love the franchise to begin with, and I definitely felt like that in the Malibu Barbie Cafe. 
Derek Berry, Head of Experiences at Bucket Listers, has spearheaded the expansive world that is Barbie into a two-story building for fans to experience. One way that Berry did that was through the menu. All of the food on the menu was curated by Master Chef semi-finalist Becky Brown, whose menu includes foods that are reminiscent of the West Coast/Barbie vibes. Berry said in email that Brown was chosen to curate the menu because "her spirit, energy, and collaboration for the project has been a home run."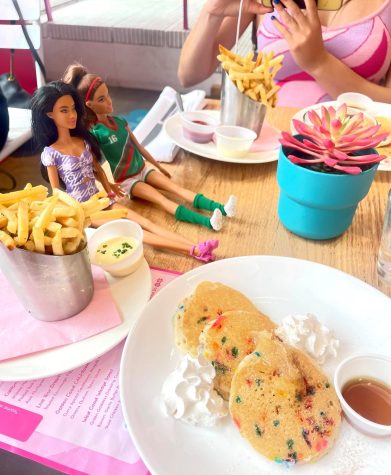 Brown said in an email that her priority "when designing the menu for Malibu Barbie Café, is FUN + JOY," she said. "Barbie is an iconic brand that signifies a fun-loving and joyful spirit, so I wanted to embody that when creating this menu."
To Berry, Barbie is both nostalgic and classic, which are also a few reasons why the franchise is such a hit across age ranges. 
Our reservation for a table for two at the café was from 2:15-3:45 p.m. There were two options for tickets, bar seats or a table, both at the same price of $22 per person. There was bar and table seating spread out on the first floor and table seating on the second floor. One entrée and side were included with the ticket, but visitors were able to purchase additional foods and drinks in person. 
I assumed it would be quite busy and frantic, as the time slot of my reservation was in the middle of the afternoon; however, before I even entered those pink doors, I was greeted with the utmost hospitality by the staff. I saw many little kids dressed up in pink, but I also saw many older people with their friends, enjoying lunch in a mesmerizing pop-up, which is exactly what my friend and I did: dress in colorful clothes and dine. This really showed me that an installation like Barbie has marinated its longevity in our culture and continues to bring people together.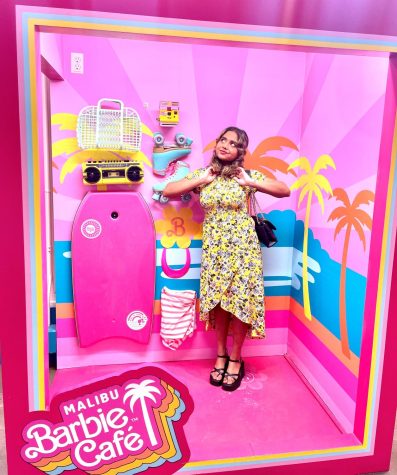 The staff referred to us as "Barbies," which was a cute touch, and made me feel like I was another Barbie in Barbieworld. Everything within the building belonged there, such as the pink walls and bar, the staff wearing pink, and even the bathroom's trash cans being pink. The beachy theme even coincided with Barbie's life: surfing and having a good time. Everything was meticulously planned for a great fan experience, which was evident from the time you walked in to when you left. 
As we entered the café, we were immediately seated as our food was being prepared. The menu includes the likes of burgers, rainbow pancakes, cauliflower bowls, and hummus. I got the rainbow pancakes and fries, and they were very tasty. There was maple syrup, whipped cream, and cinnamon sprinkled across the pancakes, which made them sweet with every bite. We ordered from the kid's menu because it was cheaper, which translated to our portions being small; nevertheless, the food was tasty, cute, and aesthetic. 
After we were done devouring our meals, we explored the café, which had two floors. Both floors had photo opportunities and seating. The various sets and props were pink, flashy, and fun — all of the things you think of when you hear the iconic Barbie name. There were props alongside the photo opportunities, such as life- size doll accessories that you would use while paying with your own Barbie, such as roller skates and cameras. Downstairs, there was a life-sized Barbie box for visitors to take photos in to feel like a real Barbie doll.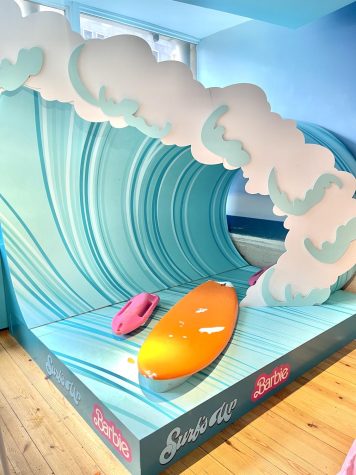 As we headed upstairs, there were even more photo opportunities and seating. On one side of the room, there was a surfing photo opportunity with waves and surfboards. On the other side, there was a hot pink swing set that friends could swing on together. Even though the pop-up itself was in a two-story building, it felt spacious and comfortable; the ticket you're paying for lives up to what the description entails — an immersive dining experience. 
This pop-up experience was a great way for fans to feel as though they were within the magical world of Barbie. I genuinely believe it was worth the $22 because you get to eat yummy foods, take fun photos, wear cute clothes, and to some degree, feel like a little kid again. And, according to Berry, "It's Barbie's world, and now we can all live in it!" 
I definitely recommend visiting and experiencing this pop-up if you are in the New York or Chicago area between now and until September when it closes. Tickets can be bought on the Bucket Listers website. The Malibu Barbie Café was an incredible precursor for the long-awaited Barbie movie, which I will definitely be tuning in to watch on July 21.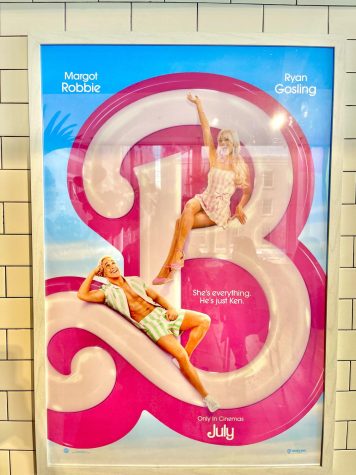 –July 3, 2023–