Beacon Hill Books & Cafe: A fresh page for Boston
This coming fall, Boston's most avid readers have something to look forward to with the opening of Beacon Hill Books & Cafe.
Located at 71 Charles St., the former site of The Hungry I restaurant, will become home to a four-story book store in September. According to owner Melissa Fetter, the store is meant to emulate the "storybook version of a book store with tremendous charm and preserved architecture."
"
[A] storybook version of a book store with tremendous charm and preserved architecture.
— MELISSA FETTER, on the thoughts behind the look of Beacon Hill Books & Cafe
Beginning in 2019, Fetter's vision of a multi-story shop in the historic Beacon Hill area would create a compelling atmosphere to encourage readers to come in and browse for books, rather than order online. The opening of Beacon Hill Books & Cafe had been largely anticipated by locals, but, due to the COVID-19 pandemic, all progress came to a halt in March 2020, extending the project much longer than Fetter was hoping for.
"The first issue was the Boston Building Department. They closed because of COVID and didn't have the tech support to send people home for work," she said. "The Beacon Hill Architectural Commission also had to move remotely. It was eight months of no progress."
To any ardent reader, the idea of four floors dedicated solely to perusing physical books is a dream, especially knowing that each floor is immaculately organized and teeming with fresh reads.
The first floor is dedicated to the cafe, where a variety of cookbooks and a custom tea blend will be sold. According to the company's Instagram page, chef Colleen Suhanosky is the mastermind behind the meals that will feed the appetite of shoppers.
The second floor will consist of books that are featured, notable, or related to current events. Unlike any other bookstore in the area, the new shop will carry Persephone Books, a U.K.-based publisher that highlights overlooked female authors and reprints their books for distribution.
Beacon Hill Books & Cafe is working to bring the neighborhood together, so community and staff picks will be displayed on the second floor, too.
Unlike an online shopping experience, where people shop for specifics rather than browsing, the new location makes it much more personal by allowing individuals to see what locals are enjoying.
The third floor will be comprised of fiction and nonfiction reads, as well as a section dedicated to travel books divided by location. The travel section is not for guide books but rather novels and historically insightful works relating to a destination.
"It will feature locations within the country, as well as globally," Fetter said.
In addition, the third floor will house books on the topic of aesthetics, interior design, gardening, history, and fashion.
Although Beacon Hill Books & Cafe is not exclusively a children's book store, the entire fourth floor is dedicated to books for the younger demographic. Along with young adult books, the fourth floor is inhabited by Paige, the fictional squirrel representing the store.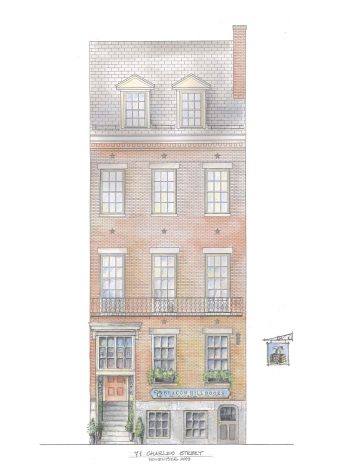 "There are squirrels all over the Public Garden, which is just a few steps away from the store," Fetter said. "Paige is a squirrel that goes to the Garden during the day and reads the children's books at night. She leaves acorns on the spines of books she thinks should be read at story time the next day."
Along with story time twice a week, children will also have access to "Squirrels Tailes," a new reading program.
Beacon Hill Books & Cafe is not just for encouraging reading within the community but also for writing, as the fourth-floor office space will be hosting writing courses for aspiring authors.
Despite all odds and COVID-related delays, Beacon Hill will get to know the joy of books, a great atmosphere, and an incredible community this fall.
(Updates on the shop's progress can be found on Beacon Hill Books & Cafe's Instagram page, @beaconhillbooksandcafe, as well as bhbooks.com where upon signing up for the newsletter, you receive a list of the staff's favorite reads.)
–July 12, 2022–