"Minions: The Rise of Gru" is a villain's heartwarming origin story
"Minions: The Rise of Gru," releasing in theaters July 1, is now the fifth addition to the "Despicable Me" franchise. Set in the 1970s, the film follows a young felonious Gru, far before his "Despicable Me" days, as he attempts to join his favorite villain league, Vicious 6.
 After deceptively kicking out their former leader (also Gru's hero), Wild Knuckles, they hold interviews for a new wrongdoer to take his place. Among the intimidating interviewees is adolescent Gru clad in his staple scarf and black jacket, despite it being an era of flared jeans and fluorescent clothing. When the group decides that 11-year-old Gru is too young and inexperienced to be a professional super-villain, he takes matters into his own hands and, unsurprisingly, things go awry. It is now up to four of his henchmen minions: Kevin, Stuart, Bob, and Otto to save, not only Gru, but the entire world from the iniquitous acts of the Vicious 6.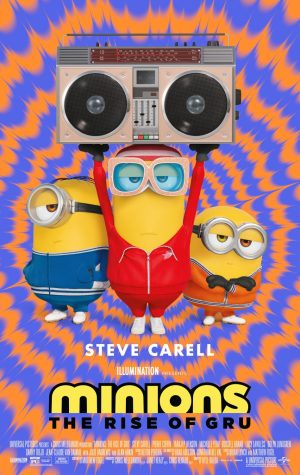 The "Minion" movies are renowned for their light-hearted humor directed toward a younger demographic, and this most recent film is no exception. The miniature overall and goggle-attired creatures are lovable and appealing to audiences of all ages, making the movie ideal for a family outing. Although much of the plot was focused on Gru, which some may say takes away from the "Minion" title, their appearances were well-timed and each one had the audience roaring with laughter, all ages alike. Whether it was the Minions flying a plane or learning to do kung-fu, they were enticing and entertaining to watch. 
As for Gru's plot, it was interesting to see the origins of his story and who inspired him to become the character we see in the previous "Despicable Me" movies. Once again, he is depicted as an outcast that is laughed at by classmates and disliked by his mother. However, this time he finds comfort in his minions and in the company of Wild Knuckles, rather than the three adopted children we get to know in "Despicable Me." On Gru's end, getting to meet Wild Knuckles is a coming-of-age experience, as he gets to figure out the villain he wants to become. Wild Knuckles, having faced the hardships of betrayal at the hands of the Vicious 6, learns what a real friend looks like after encountering Gru.
The storyline of the film is deeply rooted in the traditional values of friendship and helping each other out. Although Gru meets Wild Knuckles in an unpleasant way, the irony of being nice to a villain builds a lasting relationship. The Minions, who live in Gru's basement lair and aid with his shenanigans, depict what loyalty looks like in a friendship by going out of their way to rescue him. 
"Minions: The Rise of Gru" is an easy-to-watch 87-minute film riddled with humorous absurdity, the best of the '70s, and a soundtrack featuring today's favorites. It lives up to all expectations you would hope for walking into a "Minions" movie. 
–June 30, 2022–