For NoMBe, the pandemic brought about a new home, a new process, and a new album
As an adult, NoMBe moved to the United States, having "high hopes and dreams of opportunities." Noah McBeth, also known as NoMBe, grew up in Germany. He has quite a multiracial background as he has family members from all over the world from India to the Caribbean Islands to Native American descendants.
He got into music at a very young age, at 6-years-old. His grandmother always had music going on in the house, mostly classical. NoMBe's parents noticed that he would hum a lot, and encouraged his musical abilities. NoMBe was a shy child and music was the outlet for him "to let my emotions out," he said.
Most musicians start with writing lyrics and then move onto the musical backdrop. However, NoMBe has a "very chaotic process." Most of the time, he would start on an instrument, either his piano or guitar and quickly start recording if he has an idea of what chords make him feel special. He starts off with music first because to write quality lyrics, he needs a musical backdrop.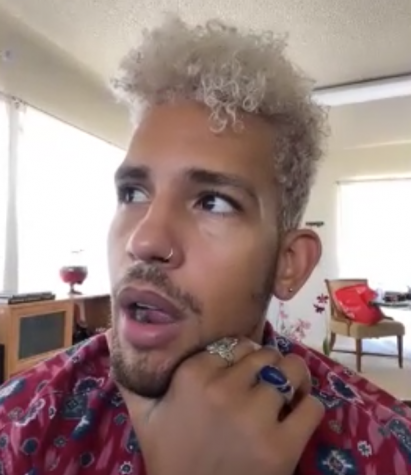 Like many of us, NoMBe had to adapt quickly to the pandemic. In one of his recent music videos, "Weirdo," he had a plan to feature explosions, odd couples, motorcycles, and more — but it all got canceled due to COVID-19. He quickly remolded it and made a music video of different couples around the world in the comfort of their homes. However, that wasn't the only way he had to change during this time.
"Writing songs through Zoom is pretty weird," said NoMBe. The subject matter in his video also changed because he felt more compelled to write politically related and mental illness songs.
According to NoMBe, the music industry also realized that it "wasn't quite ready or set up to fulfill that larger demand of digital-like live streaming." The touring landscape changed and many singers had done digital shows.
"
Writing songs through Zoom is pretty weird,"
— NoMBe
While most people tried to stay in the same state during COVID-19, NoMBe had to move last August. He stated that he "had a lot going on," like being harassed by police in Los Angeles. He also let some protesters stay in his music studio because they were shot with rubber bullets. The landlord didn't appreciate that and gave him a 30-day notice to move out. NoMBe didn't try to fight this because later, his friend called and told him to come to Hawaii, stating that it was laid back and good for him. So far it's been a year now, and NoMBe said he is "just so happy."
Additionally, during this epidemic, most of us are having a hard time knowing people through Zoom, but getting to know NoMBe happened quickly.
If I could describe NoMBe in one word, it would be funny. While closing off the interview, we found out that he loves random facts and his current favorite is about an avocado. He told us that a man in 2016 successfully robbed a bank by saying that his avocado was a grenade.
(Watch the "Weirdo" music video, along with NoMBe's new album, "CHROMATOPIA")
–July 3, 2021–