NoMBe: An artist to watch
In 2016, a man successfully robbed an Israeli bank by claiming that the avocado in his hand was a grenade. He got the money. This is how Noah McBeth, also known as NoMBe, chooses to wrap up our interview.
NoMBe is not only a collector of random facts, he is also a genre-defying multi-instrumentalist with nearly 2.5 million monthly listeners on Spotify.
The Hawaii resident spent most of his childhood in Germany, playing Bach and Chopin on the piano and eventually producing music for local artists. NoMBe's production expertise has obviously come in handy, as he self-produces the majority of his work. His musical influences span multiple genres and include the likes of Daft Punk, Bill Withers, Stevie Wonder, Michael Jackson, Tame Impala, MGMT, Thomas Newman, John Coltrane, and the Red Hot Chili Peppers.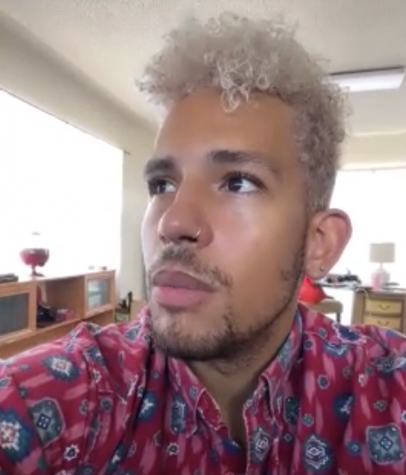 NoMBe's new album "Chromatopia," a refreshing blend of dream pop and psychedelic rock, covers the mountainous peaks and hollow valleys of love, from falling for someone new to soul-crushing heartbreak. "This Is Not A Love Song," his favorite song on the album, compares the emotions felt after a painful breakup to death.
"I died in my sleep from a dream that we both became strangers," he mournfully croons.
NoMBe recently released a music video for the song. The video shows NoMBe wearing a salmon pink suit and swaying against different natural backgrounds, such as a tranquil beach and a vast forest.
However, not all of "Chromatopia's" songs are about romance. "Boys Don't Cry" eloquently deals with the subject of toxic masculinity. "Keep what you feel inside, boys don't cry," NoMBe sings against the song's synth-filled production. He explains how "this idea of toughness is a double-edged sword for a lot of men. It holds us back from showing emotion and healing. We're expected to be first-responders of sorts."
"
Speak your mind, and that's way more authentic and interesting and relatable."
— NoMBe, on writing songs
The album is also sprinkled with four instrumental tracks: "Chromatopia A," "Chromatopia B," "Chromatopia C," and "Happy Birthday Frank!", the last being the vibrant piano melody NoMBe played at Frank Ocean's 30th birthday party. NoMBe had worked on the song for years, but struggled to make everything come together. Getting hired to play at the party was the "butt-kicking" necessary for him to finish the song.
When asked for his advice on combating procrastination, NoMBe says, "The hardest thing as a writer is sitting down to write . . . It's important to sit down every day and do something, even if you do five minutes, 10 minutes. Doesn't matter if it's your best writing . . . I think that's a big distinction between a professional and somebody who's just doing it out of pure love."
Clearly, the songwriting process itself has forcibly changed due to the pandemic. Writing sessions now take place over Zoom. While they're effective, they don't replace the experience of collaborating with someone in person. NoMBe reveals that the pandemic has inspired a shift in his songs' lyrical content. Recently, he has been writing about darker topics, like politics and mental illness.
So, how does he cover such heavy subjects? By remaining honest.
"Speak your mind, and that's way more authentic and interesting and relatable," he advises.
Truth definitely seems to be working for him.
–June 29, 2021–