From any viewpoint, "Fun Home" a brilliant look at a life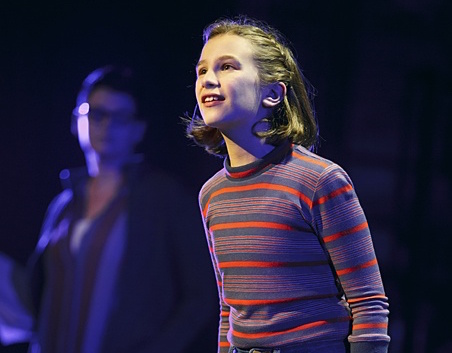 "Fun Home" is playing at the Boston Opera House from Oct. 17-29, 2017, as a part of Broadway in Boston. The show only has nine people onstage in the whole performance, each playing a named character (meaning there was no ensemble). It also had no intermission, which is different from most shows, but it worked so well without one.
The show had three time periods of the main character Alison's life going on at the same time; her childhood, her college years, and her adult self, who never once left the stage, looking back on her life. What was amazing about this was the scenes did not take place in chronological order, the different aged Alisons shared the stage in telling the story, not necessarily in sequential order. Even though this could have been very confusing for audience members, it was done incredibly well and it made the show so much better.
The show was written by Alison Bechdel, who tells the story of her own life from childhood to her adult life where she describes herself as "a lesbian cartoonist". "Fun Home" was originally a graphic novel and was interpreted into a musical, taking the Broadway stage in 2015.
"Fun Home" was brilliant. It was a serious show overall, but the clever writing made it witty and absolutely hilarious. The music was beautiful including a song sung by Small Alison called "Ring of Keys" and one at the end by adult Alison, "Telephone Wire" where she tries to connect with her father.
One song that stood out in particular was sung by small Alison and her two brothers toward the beginning of the show. It was an upbeat song called "Come to the Fun Home" advertising for their family's funeral home. They dance around while they advertise all of the items the home has such as the coffins, flowers, and even tissue boxes; always referring to the Bechdel Funeral Home as "The Fun Home."
This humor is carried on throughout the production when Middle Allison discovers who she is as an awkward college student, and adult Allison's blunt humor as she constantly makes fun of her past selves. This being said, it has a serious thread that her father killed himself because he was a gay man, married to Alison's mom. Alison is looking back on her life throughout the show to try and figure out what happened and why.
"Fun Home" was able to capture the struggles in her life while at the same time being funny and entertaining to the audience, which is part of what made it so wonderful.
From the music, the new and out-of-the-box storyline, the writing, and everything else about it, it was a fantastic production that is definitely worth a trip into the city.
("Fun Home" is playing at Boston Opera House from Oct. 17 to Oct. 29, 2017. For more information or tickets, go to https://boston.broadway.com/shows/fun-home-baa/.)
–Oct. 26, 2017–