Stage version of "Finding Neverland" takes audiences to wonderful places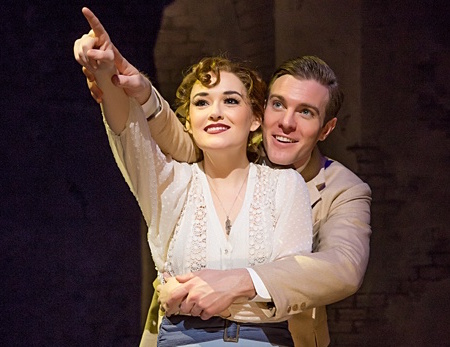 What do "Legally Blonde," "Newsies," "School of Rock," "Groundhog Day," "Heathers," and "Shrek" have in common?
Mostly cult favorites, these movies have all been turned into stage musicals. Some, such as "Newsies," have been adapted from musical movies, but many (see: the surprising "Heathers") are completely revamped with the addition of tapping and tunes. The past 10 years have seemed a breeding ground for movies-turned-musicals, beginning with Elle Woods's journey through Harvard Law School on the stage of Broadway's Palace Theater in 2007.
"Finding Neverland" is no exception to this trend. The non-musical film of the same name was released in 2004, based on the true story of playwright and author J.M. Barrie's fatherly relationship with the Llewelyn Davies brothers, who would become his inspiration for "Peter Pan." The musical opened on Broadway in 2015, having added romance to the friendship between the married Barrie and the boys' widowed mother, Sylvia.
Throughout the course of the show, Barrie helps one of the boys, Peter, to use his imagination again, and, through interacting with the children, he gains the freedom to cultivate his own once more.  All the while, actors, audience, stage manager, and producer wait impatiently and skeptically for J.M. Barrie's latest play, promised to be exceptional. No one, except possibly the Llewelyn Davies family, expects what they are going to get…
"Finding Neverland" is fun-filled and adventurous, with moments of tasteful, true sadness and genuine, soaring joy. The performers of the touring company pack the stage with talent, especially Billy Harrigan Tighe, who brings us through the "real" life and imagination of J.M. Barrie with his skillful singing and acting.  The child actors hold their own, effortlessly keeping up with the adults vocally and textually.
The sets are not over the top, but masterfully designed and utilized in every way. A certain park bench comes to mind in this category, as well as the entertaining use of the stage's curtain to create a show within a show.
Anything that one might feel does not quite work in this production is overshadowed by all those components that do.  Overall, "Neverland" is about making the most of each day, finding magic in everything, and not letting the soul grow old as the body does. It lives not in the duet between love interests, but in the child-led song "We're All Made of Stars," which cheerily reminds its listeners that everyone matters.
It's wonderful to know that there are good things to watch, but what's the point in spending money to see a lengthy musical when all these movies are available to rent for $2.99, or are already part of your collection? As one of the show's characters says of musical comedies, "Oh, please. That's the lowest form of entertainment there is!"
It is quite possible that the whole concept of transitioning from screen to stage is a money grab aimed at a world of people who enjoy the comfort of familiar stories. But with more of these stories in the works, like "Mean Girls: The Musical," the trend is not going away soon.
If money is the reason, it does not matter. True musical theater fans know that funds are not what the medium of performance is about. What are important are the emotions and thoughts unable to be expressed through speech. Some inner experiences would sound strange if talked about out loud, no matter how relatable.  Hence, a glimpse into the minds of characters through song is a perfect way to convey them.
Being in a theater full of people who love the same thing as you unifies everyone inside, even if just for the night. I know that the Boston Opera House was brought together in a very special way on opening night, Aug. 8, and the actors, as they told those at the talk-back later, could tell that this was an especially responsive crowd.
That electric symbiotic relationship between performer and audience is the magic of theater, and of "Finding Neverland."
You can take part in the magic, too, in Boston until Aug. 20.
("Finding Neverland" is playing at Boston Opera House Aug. 8-20, 2017. For more information, go to http://boston.broadway.com/.)
–Aug. 11, 2017–
About the Contributor
Angelina Kemmett, HiE correspondent
Angelina Kemmett is a graduate of Matignon High School, where she co-founded, edited, and wrote for the school's news site The Matignon Mirror (matignonmirror.org)....