"Now that I'm older, I felt like I should set the standard a lot. I obviously worked hard throughout the year to be able to get to this point." 
Those were the words of 16-year-old Olger Escobar, a New England Revolution II soccer player from Malden, Mass., who was recently named MVP of Under-17 MLS Next.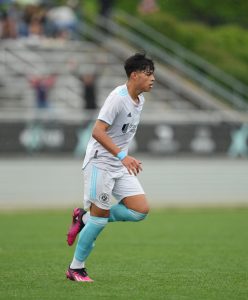 MLS Next is a youth development league run by Major League Soccer. Escobar was sent to the All-Star Game, and was given his first professional contract July 26 after an amazing season in which the forward scored 15 goals in 17 starts.
In recent years, the Revolution has had great success developing players through its youth system. Noel Buck, 18, has played in 16 games (and made 14 starts) for the first team this season, and 18-year-old Esmir Bajraktarevic has made 10 appearances (five starts) for the first team. Just like Escobar, they both started in the Revolution Academy system. (The Revolution Academy competes in MLS Next).
Escobar acknowledged the importance of following the pro-player pathway – MLS Next to MLS Next Pro to MLS – for development. 
"It is very important to take it all in, do what you can, have a lot of fun, be very decoupled, and follow the steps [to become professional]," he said during a recent Zoom interview.
Despite the Revolution's recent success with youth, Escobar is the first Revolution player to be a MLS Next MVP. When asked about it, Escobar said, "It feels amazing, you know, came a long way through the academy. It's a dream come true … I'm glad to have been the first one ever [to be MVP]."
"
I'm just like another kid that goes to high school. Outside of soccer, I do fun kid things like play Playstation, play with my friends."
— OLGER ESCOBAR, who recently signed a pro contract with the New England Revolution at 16 years old
Despite being born in Boston, Escobar represents Guatemala internationally, having made 15 appearances and scoring eight goals for the Guatemala U17 team. Escobar has Guatemalan citizenship, so he could represent both the United States and Guatemala. He said his main reason for accepting the Guatemala call-up was his parents, who were born in Guatemala.
"Make them [his parents] very happy the fact their son can represent their country," he said. 
Life as an academy player is very different from the life of typical kids. Players live together in housing provided by the Revolution and take online school. Despite this, Escobar says he acts like an ordinary 16-year-old.
"I'm just like another kid that goes to high school," he said. "Outside of soccer, I do fun kid things like play Playstation, play with my friends."
Escobar gave some advice to kids who want to follow in his footsteps: "Keep working hard. The most important thing is to just have fun, enjoy the moment you're doing what you love, and whatever comes your way, you're just going to have to deal with as much as you can; just never give up."
–July 31, 2023–
Story continues below advertisement