At solemn anniversary of tragedy, another call for gun control
Dr. Jill Biden, Gabby Giffords urge San Francisco audience to continue the fight for more gun safety laws
On June 13, 2023, the Giffords Law Center to Prevent Gun Violence held an event to commemorate the 30th anniversary of the 1993 San Francisco shooting on California Street. First Lady Dr. Jill Biden was the key speaker, urging the audience to take action and advocate for gun laws. She was then followed by Gabby Giffords, former Congresswoman and co-founder of the Giffords Law Center. The event was held in honor of the tragedy, but also to celebrate the legislation that has changed since then.
The shooting that took place in 1993 took the lives of eight people, and injured even more. This shooting was just one turning point in Giffords's career; in 2011, she was shot in the head and lost her ability to walk and speak, eventually relearning these skills.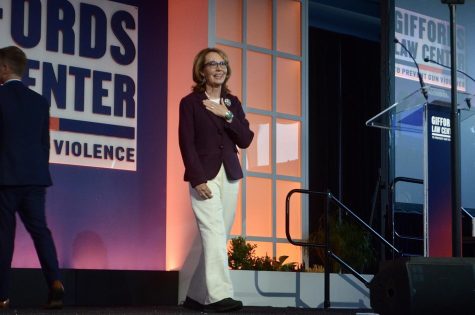 Speaking of this tragedy, Giffords explained how it inspired her to create change in her life and the lives of people who could be affected by gun violence.
"Our lives can change so quickly. Mine did when I was shot. But I never gave up hope. I chose to make a new start, to move ahead, to not look back," Giffords said.
These events and others just like them inspired Giffords and her husband, Mark Kelly, to create the nonprofit in 2013 in hopes of a safer future. They eventually merged it with a law center, allowing for more gun laws to be enforced and, in turn, taking away some of the power of gun corporations. Every year, the Giffords Law Center has hosted this celebration to recognize progress and inspire activism. In the past decade, the Giffords Law Center has worked to pass more than 500 gun safety laws.
"
There's so much you can do before you're 18 to make your voice heard, even more than someone who's going to vote
— ETHAN ASHER, Stanford University student
A theme emerging among the speakers was how to continue to find hope and fight for a world that has taken so much from us. Biden remembered those who have been taken due to gun violence, and urged the audience to continue the fight.
"We can never bring back the lives that have been taken from us. Their loved ones will never be able to watch them graduate or start families or grow old. Never see them fulfill the incredible potential within them. But we can still realize that power in ourselves. We can stand up. Demand change. Reshape this world to be safer, more peaceful, less full of hurt and heartbreak," Biden said.
Held at Pier 27 on the Embarcadero, hundreds of community members gathered for a reception and ceremony, involving discussion panels, videos, and guest speakers. Audience members ranged from Assembly member Rebecca Bauer-Kahan to Lieutenant Governor Eleni Kounalakis. The environment of the ceremony reminded the community that though the state of California has made positive progress on stricter gun reform, there is still a way to go. Though California has the lowest gun violence rates in the nation, the fight must never stop to spread legislation throughout the country, the ceremony emphasized
Biden also recognized the fear that most people live in throughout their daily lives, and hopes to create a safer existence for all Americans.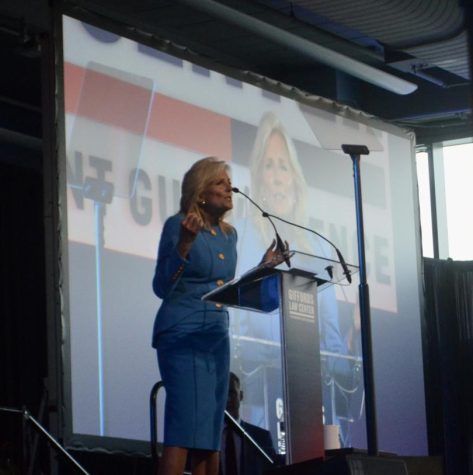 "[We can] build a future where we hear loud noises without ducking for cover. Where we shop for groceries and go to movies without fear. Where every child — every person — can grow and chase their dreams and become the people they were meant to be," Biden said.
Another guest speaker was Ethan Asher, a rising senior at Stanford University who has been advocating for better gun control since he was 15 years old. He was inspired to take action when one of his friends was killed in the Marjory Stoneman Douglas High School shooting in Parkland, Fla. Asher urges high schoolers to get involved in activism because in order for change to take place, people must start taking action.
"There's so much you can do before you're 18 to make your voice heard, even more than someone who's going to vote," said Asher in an interview with Headliners of Summer reporters. " [You can go] door-knocking with a local community, make phone calls with a local organization [and] make sure that your parents and your friends and your people you're in clubs with are gonna vote." 
Asher also emphasized making an impact on a local and personal level, not just nation or state-wide. 
"Everyone has a sphere of influence, [and you need to think about] what your sphere of influence is. And how about making sure that those people are taking action and showing up … you know, influence the people in your life to take action if you're not able to take those actions," Asher said.
(To find more information about the Giffords Law Center to Prevent Gun Violence, go to the homepage HERE.)
–June 26, 2023–