There's more than one way to have a Pride Festival
Unlike the enthusiastic parades seen on social media, San Ramon's Pride Festival had a laid-back vibe — but was also very successful on many fronts
The quaint town of San Ramon, Calif., celebrated its second annual Pride Festival on June 15, 2023, and had an impressive turnout in comparison to the previous year. 
As someone attending their first ever Pride event, I was pleasantly surprised to experience a culture and vibe that was very different from what I expected. My expectations were shaped from the videos across my Instagram and TikTok feed, showcasing extremely large, loud, and party-like parades that were incredible celebrations through and through. 
However, the Pride event in my town was extremely different from this portrayal of Pride I had seen on social media. But despite being different in many ways, ranging from the smaller size of the event to the more laid-back vibe of community booths and small performances, it was far from disappointing.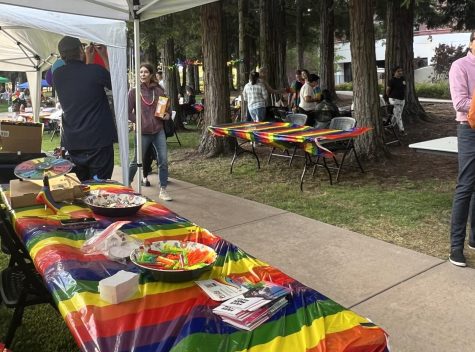 I attended the event to run a booth there, and in doing so I was able to have amazing conversations with people in my community who were not only helping us become more unified, but also helping those in need. 
My booth was part of a club that focuses on raising money for domestic violence survivors. Throughout the Pride event, I had the privilege of  talking to survivors of domestic violence within our community and also connecting with other women who were equally passionate about combating domestic violence through an initiative called Rewire.
Having these conversations with such impactful people within my neighborhood and meeting an immense amount of families coming out to support and celebrate Pride made me realize that there is not just one single way to have a Pride Festival. 
The event also featured local artists and performers who all presented their own form of support and love for the LGBTQ+ community. There were cultural dances presented, singers performed songs about love, and interactive movements and activities with the crowd were all part of the performances. I was able to see teachers from my school, friends and neighbors within the crowd. It completely surpassed my expectations and created a much more relaxed and cozy atmosphere, distinct from the celebrations online that all looked like a genuine parade.
My interaction with numerous kids, parents, and even some grandparents allowed me to not only bond with the people in my town, but also provided them with valuable information to support their community. 
San Ramon Pride may have approached their event a different way than some areas, but I learned that Pride does not have to be celebrated in one way, and that even a smaller event can be as much of a success as the largest festivals. As our community grows, so will Pride Festivals to come, representing the needs and dreams of our diverse community.
–June 25, 2023–