"Corteo" is Cirque du Soleil's flying family
Five hours before showtime, the cast and crew of Cirque du Soleil's "Corteo" get ready to perform their gravity-defying acts in Agganis Arena at Boston University.
The tour has been on the road for 18 years and has reached the eyes of 10 million people from across the world. For the next four days, June 8-11, it will be performed for Boston audiences.
The current "Corteo" family is composed of 53 performers and 120 people overall that make the performance possible. "Corteo" has individuals from 27 countries who come together to keep the magical show running efficiently.
Alexandra Gaillard, the show's senior publicist, who was raised in France, spoke upon the familial aspect of the tour. Without the chefs, dishwashers, technicians, and every role, on stage and off, the performance would not run as smoothly as it does, Gaillard said. The show is constantly on tour, and therefore the cast and crew has become their own Cirque du Soleil family.
"We celebrate our birthdays together!" Gaillard said.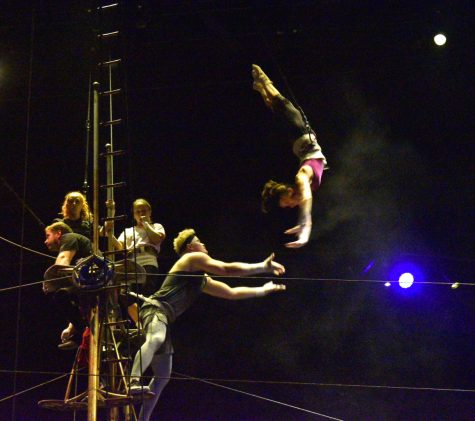 The cast and crew of "Corteo" does not only operate like a family, but also like a well-oiled machine. From the 12-hour load-in at the new venue to the four-hour pack time when it is time to move on. After 18 years of shows, they have it down to a science.
Just a few hours before Boston audience members were to take their seats, the "Corteo" family routine is in full swing. The show's main character is Mauro the Clown, who envisions his own funeral taking place at a carnival. Acrobats rehearse "Paradis," an act that combines a trampoline-like net and Korean double-frame stations to create unbelievable stage pictures as performers fly through the sky into their castmates' hands. The trust displayed while soaring through the air is evident.
The "Corteo" family's trust and comfortability is not only evident on stage, in fact, each job on tour is valued as the show could not continue without each member.
The show is set in the center of Agganis Arena with the audience on two sides and with two backstage areas. Performers who must cross the arena have to do so without spoiling the magic for the audience, so the set allows for a travel system underneath the stage to get from one side to the other.
While Charlotte Foret, a wardrobe technician from France, gets the 200 pairs of shoes, each cast member with two to five pairs each, prepared for the performance, Johan Juslin, a juggler from Finland rehearses his act, tossing bowling pins and rings 15 feet into the air, in the portable gym just around the corner.
Cirque du Soleil "Corteo" is a family, not just a cast and crew, and after years of experience they can set foot in a city on a Thursday and be gone the following Sunday without leaving a trace.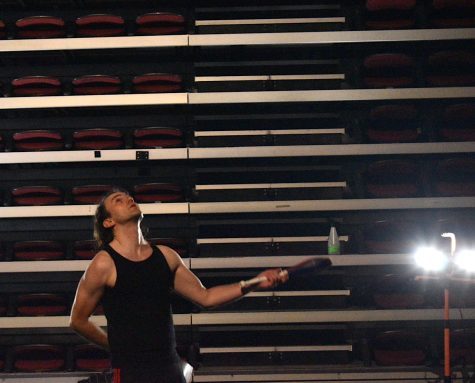 –June 8, 2023–