"Chevalier": A man and his music lost to history
"Who the f— is that?" Mozart runs to exclaim backstage after being beaten in a battle of violins. It is Chevalier, as we subsequently learn only several minutes into the movie, who, of course, the movie is named for. 
"Chevalier" is a biopic that describes the life of Joseph Bologne, Chevalier de Saint-Georges, played by Kelvin Harrison Jr. that is set to debut Friday, April 21, 2023. He was the son of an African enslaved person and a French plantation owner who went on to become an excellent fencer, a virtuoso violist, and a fantastic composer.
Unfortunately, much of his work was lost when Napoleon came to power after the Revolution and reinstated slavery in 1802. 
As depicted by the movie, the excellence that resulted from his hard work allowed him to rise in status in 18th-century France, becoming an officer of the King's Guard and being dubbed Chevalier de Saint-Georges in 1762.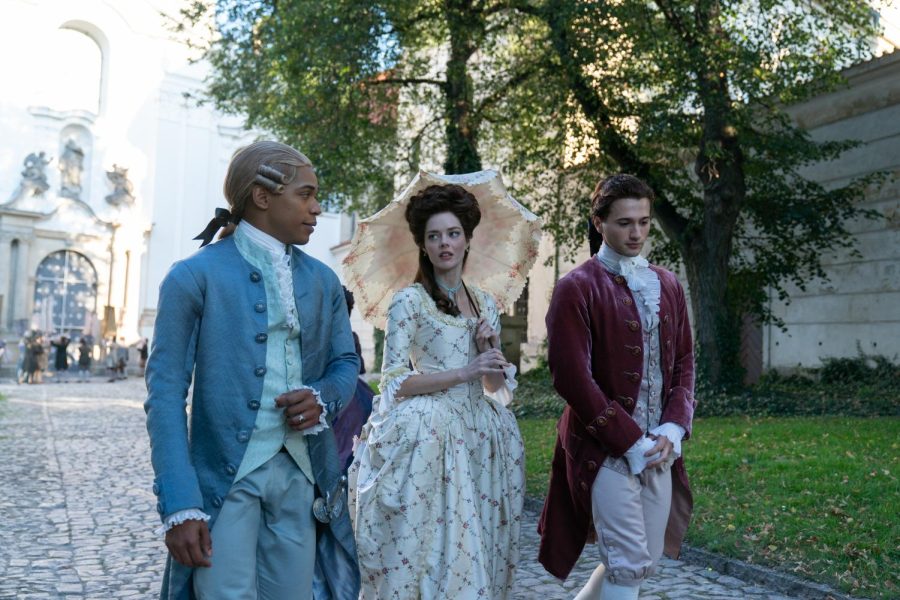 Throughout the movie, Chevalier faces ups and downs with Marie Antionette (Lucy Boynton) and is betrayed by La Guimard (Minnie Driver), a character inspired by the renowned French ballerina Marie-Madeleine Guimard, who was a powerful member of Marie Antoinette's court. He also pursues a risky affair with Marie Josephine (Samara Weaving). 
Overall, the film tackles racism, sexism, and the pressure to be "excellent," all themes seen in the present-day in a setting that we think of as being old-fashioned. 
Furthermore, it illustrates the imperfections in all of the characters, including Chevalier and Marie Josephine, instead of portraying them as perfect, something that isn't always seen in other depictions of historical characters. For example, Chevalier seems to be focused on being a very wealthy Frenchman with a lot of success, especially at the start, similar to Alexander Hamilton in Lin-Manuel Miranda's musical. 
"
Much of Chevalier's work was lost when Napoleon came to power after the Revolution and reinstated slavery in 1802. "
Although "Chevalier" is not a musical like "Hamilton," it stills uses the music, primarily violin, to drive the action and emotion throughout the film. Because I am not very familiar with the violin, it was definitely a lot more impressive than I expected from a movie about classical music. The costumes and makeup, cinematography, and acting are also pretty amazing.
On the other hand, the plot does drag a little bit, especially during the middle of the film as there is a lot of information about his life that the filmmakers strived to include. In my opinion, some lines do sound a little unnatural, like they were especially designed to highlight certain themes. That being said, there is a lot more emotion that kicks in toward the end that really drives home the message of never giving up. 
I think that the movie is well suited to adults and teens (and maybe certain tweens) and, therefore, its PG-13 rating is appropriate. For example, Marie Josephine appears to cheat on her husband, Marc-René, Marquis de Montalembert and have an affair with Chevalier for the "right reasons," so there is definitely the presence of kissing, touching, and whatnot. Additionally, we do see Chevalier both waking up with a few ladies and acting out after drinking a little too much. Chevalier also faces some violent examples of racism.  
Although the film perhaps tries to do a little too much — summarizing Chevalier's life, including his music and emotion, and depicting how France is changing around him at the time — it is a must-see for those, like me, who are passionate about history, perseverance, and/or music.
The movie is also an important work of art. It brings to light the work of a determined and passionate artist who was omitted from popular history and diminished by being labeled as the "Black Mozart." One day this film may be required watching in schools because it shows well the many conflicts that arose during the French Revolution, including the struggles faced by women and the people of color of the time. 
–April 20, 2023–