When Lauv, Hayley Kiyoko, and Aidan Bissett get together, there's nothing to do but bop
There was plenty for fans to enjoy as the All 4 Nothing Tour stops at The Met in Philadelphia
Anjali Darji, Rancocas Valley Regional High
September 5, 2022
It's a hot summer night in Philadelphia and there is a line around the corner of The Met buzzing with excitement in anticipation of seeing Lauv on his All 4 Nothing Tour with Hayley Kiyoko and Aidan Bissett on Aug. 19. 
Due to the clear bag policy and multiple admittance lines, we were inside the venue within minutes of the doors opening. As we walked in, we were instantly greeted by merchandise tables and refreshments. Once inside, we took in the general admission area to be filled with more young adolescents while the reserved seating was taken by late adolescents. 
AIDAN BISSETT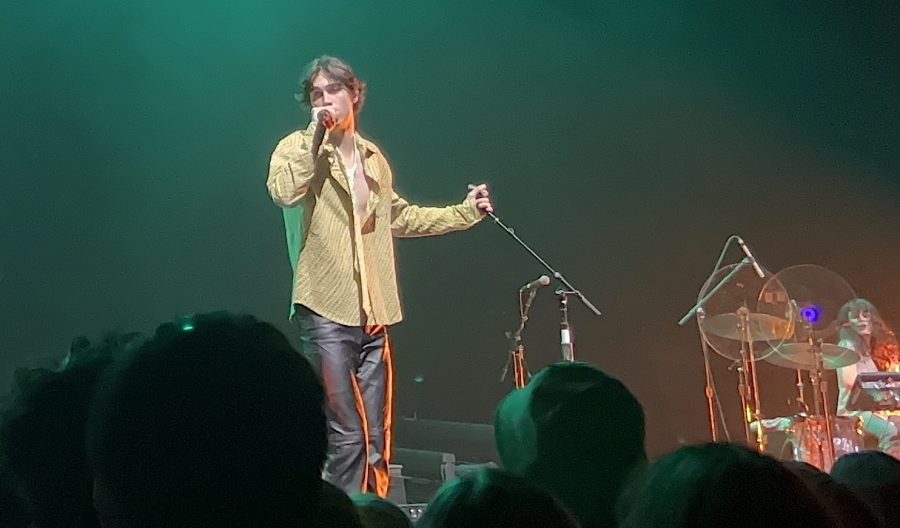 Before his set, "Who are you?" was loudly shouted, but the alternative-indie singer quickly showed the crowd exactly who he is.
With only a 15-minute set, Bissett showed off his impressive discography, including his latest release "Twenty Something," before playing his next single, "Tripping on Air," which will be out Sept. 9. He also performed his hit "More than Friends" which has more than 39 million streams on Spotify. 
By the first song, Bissett had people dancing along and by the last he had people following his Instagram and seeing what he does next. 
HAYLEY KIYOKO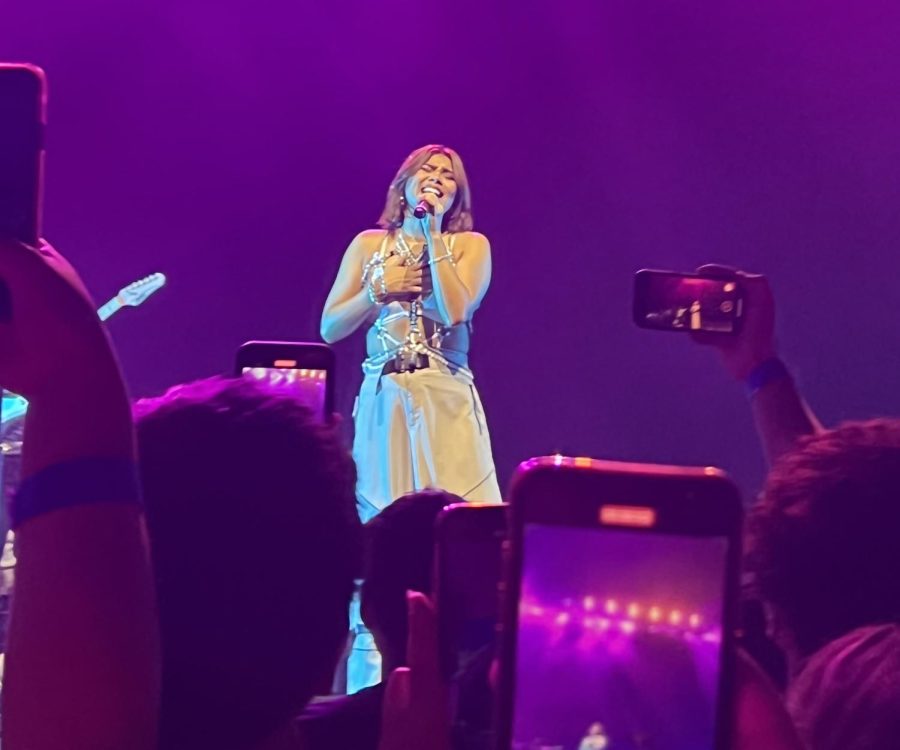 Affectionately known to her fans as "Lesbian Jesus," pop singer Hayley Kiyoko is a proud member of the LGBTQ+ community and expresses that through her lyrics.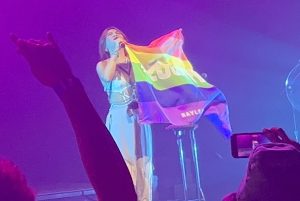 Kiyoko jumped into view and opened up with her song "demons," which had everyone singing along by the end. She then ventured to sing "sugar at the bottom" off of her new album "Panorama." She also sang hits such as "curious" and "for the girls."
From synchronized lights to instrument changes, Kiyoko kept the audience's attention through it all. She even took a dance break and showed off her dance skills. Halfway through her set Kiyoko had audience members yelling, "I love you!" at her. 
Kiyoko brought out a pride flag with "#20GAYTEEN" written on it while closing her set with her hit "Girls Like Girls," recalling a tweet she made back on Jan. 1, 2018, which said, "It's our year, it's our time. To thrive and let our souls feel alive. #20GAYTEEN #EXPECTATIONS." This has cemented her loud and proud position in the LGBTQ+ community, in addition to the dazzling set that had everyone singing along. 
LAUV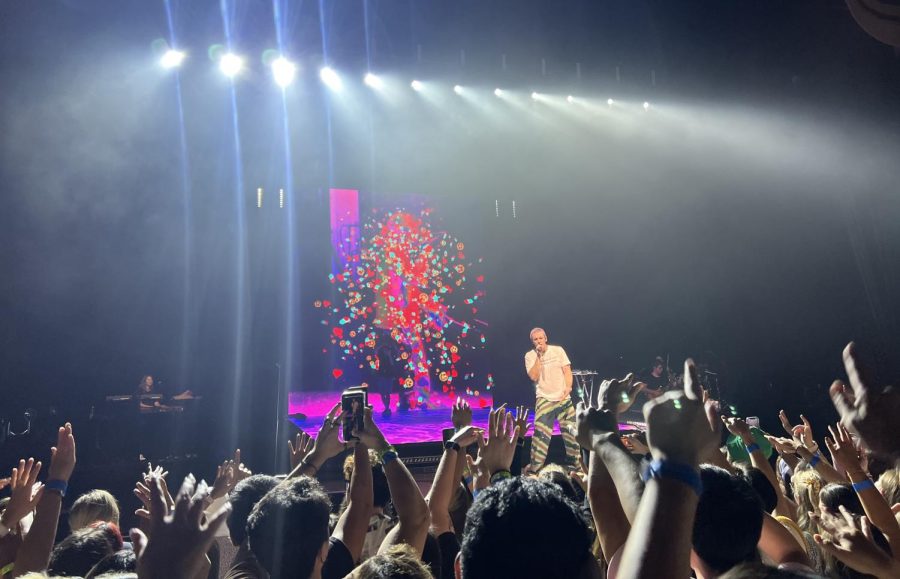 Starting with a long fade in, the lyrics of "26" were heard before gradually becoming louder before Lauv appeared and transitioned into "Kids Are Born Stars." By the end of the second song, hands were up and bodies were bopping before Lauv slowed it down for fan favorite, "Paris in the Rain." The song consisted of call and response that kept the audience more engaged, bopping, and excited in anticipation of what the star would do next.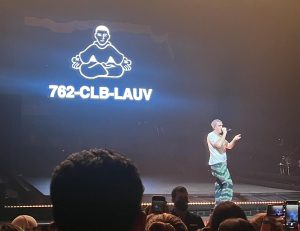 The vibes quickly picked up again, culminating in the hit "Stranger," which saw Lauv bouncing all around the stage and really giving and living up to the hype set by the dazzling performances from earlier. He then showed off his guitar skills during "Paranoid" before moving on to perform the radio hit "I'm so tired." 
By this point, the simple vibing faze was over, people were now rocking out and jumping. The synchronized lighting with the beat drops made the vibes all the better and further contributed to the shining performance. Nearing the end, Lauv threw it back with songs such as "The Other" and "Never Not."
Lauv, whose name is Ari, then introduced us to "Hey Ari," the ninth track off "All 4 Nothing." His sophomore album contains songs that connect with audiences through truth and free expression. Before performing the song, he spoke on his anxiety and mental health. A phone number (762-CLB-LAUV) then showed up on the screen behind him and he went on to explain that Lauv's Meditation Club had officially launched. Lauv's Meditation Club is a hotline for everyday guided meditations and new music from Lauv. 
Lauv closed the concert with his viral hit "I Like Me Better" off his 2018 compilation album "I Met You When I Was 18." At this point hands and phones were back in the air, bodies were bopping, and the vibes were content.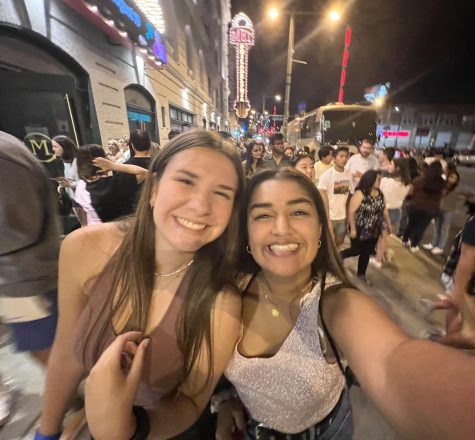 –Sept. 5, 2022–