Let's be Sad together: Sad Summer Festival 2022
LØLØ, Hot Milk, The Summer Set, Hot Mulligan, The State Champs, Mayday Parade, Waterparks, and Neck Deep make for a crowd-surfing, head-banging, shenanigans-filled time at Skyline Stage at the Mann in Philadelphia
It's the dog days of summer, and everyone was gathered with their friends, family, and loved ones outside of Skyline Stage at the Mann in Philadelphia in anticipation of this year's Sad Summer Festival on July 30.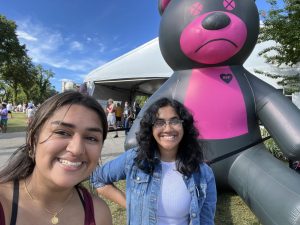 As we watched concert-goers pile into the parking lot, we moved toward security. When we reached the security screening, what should have felt like a long time went by fast, especially with how efficient security was with admitting the young to late-adolescent demographic into the show.
As we walked up the stairs, we admired the scenery of the venue, including the Philadelphia skyline. At the top of the hill, we found the Sad Summer Festival inflatable mascot, Sad Wellington, as well as photo stations for each artist.
People lined up at merchandise tables to purchase graphic band tees of their favorite artists for $30-$35 each, as the Sad Summer Festival had its own merchandise table that sold graphic tees for a similar price and other merchandise, such as Sad Summer Sunscreen, dubbed "Sadscreen," and Sad Summer Skull Socks.
If patrons were hungry and thirsty, there were a variety of local food vendors to choose from, such as Rita's Italian Ice and Humpty's Dumplings, while water and alcoholic beverages were available, too.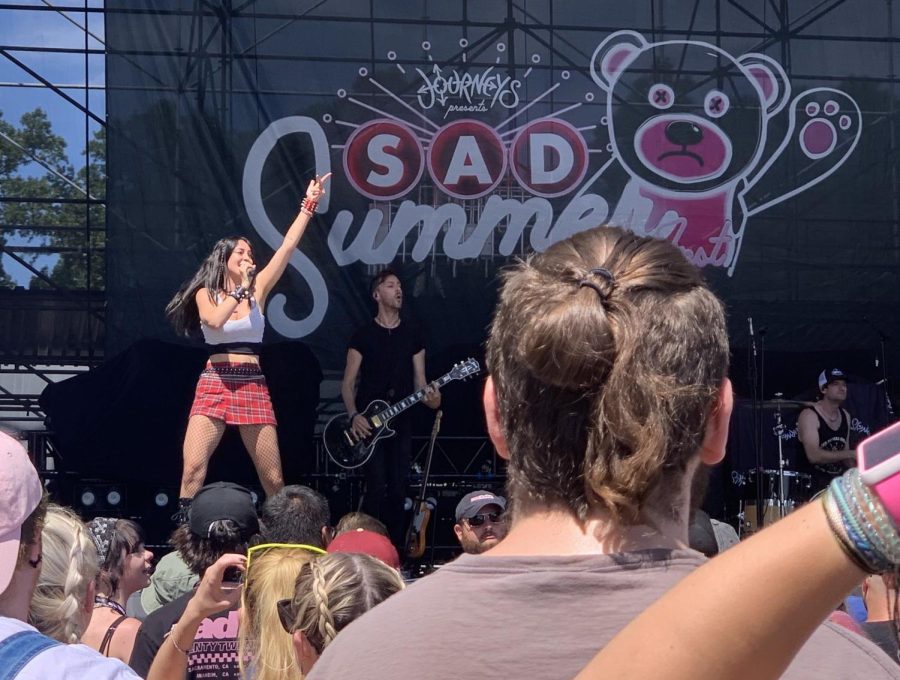 LØLØ: "For the next 25 minutes, I'm going to do a lot of oversharing" 
As the opener, LØLØ had her work cut out for her.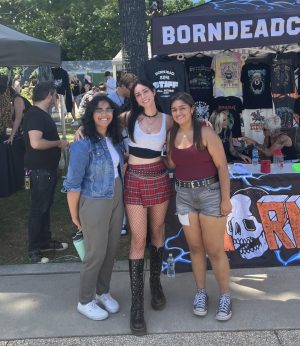 During the first song, some people were getting into it.
By the third song, a good portion of the audience was dancing and head-banging.
The set included "debbie downer" by LØLØ and Maggie Lindemann, which LØLØ took on with solo vocals and some help from the audience. The call-and-response nature of the song warmed the audience up to the artist and definitely won her some fans.
Bringing her pop punk vibes to the concert, LØLØ successfully warmed up the audience and played a successful set.  
We caught up with LØLØ after the show. 
"It felt amazing [to be on stage]," she said. "The audience was really really good and it just gives energy when the audience is amazing."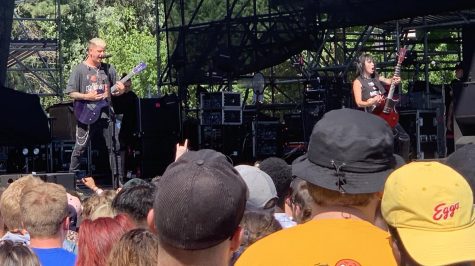 Hot Milk: "Sad Summer, are you ready to jump? Let's go!"
There are so many reasons why you should go see this alternative pop punk band on tour. They sound exactly the same live as they do on record, especially considering how readily and swiftly they evoke strong emotions during their performance while singing from the heart, which helped them create audience engagement.
Hot Milk displayed a wide vocal range and beautifully blended melodies. Hot Milk's stage presence was a mastered craft that did not happen overnight, as it was years of experience that allowed them to not only move and jump around a lot on stage to get the audience excited, but to play their instruments immediately after and go back and forth between choreography and playing for the audience.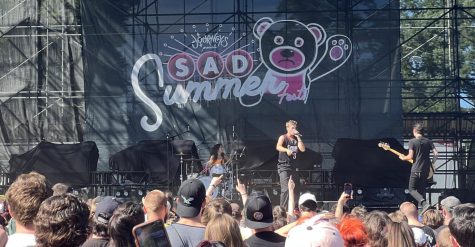 The Summer Set: "I promise this time the summer sets forever" 
The Summer Set's pop-rock performance was emotional for many fans, considering that it's been 6 1/2 years since they released an album.
Their performance was nostalgic, taking Philadelphia on a trip back to 2007, when they became a band. The Summer Set maintained that same charm and charisma they had all those years ago with their new music as well, and it was evident in the faces of the audience that gleamed when the sun hit as they sang along with every word.
They also threw it back with some of their biggest hits such as "Boomerang" and "Chelsea".
The Summer Set said that they will be back in Philadelphia soon, and we cannot wait to see them again.
Hot Mulligan: *HEADBANG*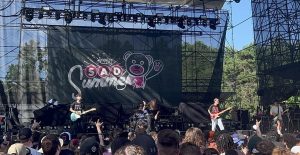 When the post-emo band's lead singer, Tades Sanville, entered the stage headbanging, he set the vibe for the crowd. Hot Mulligan immediately created a connection with their audience and let them know that this was not just another gig.
When engaging with the crowd, Hot Mulligan was energetic and lively as well, as the audience was interacting back with the same contagious energy that was shown by the band. Their body language and facial expressions matched the feelings of their songs, which also helped get into it.
Listening to their songs in person is an experience that we recommend because of the feel-good vibes we retained from them and the various vocal tones and timbres we were exposed to.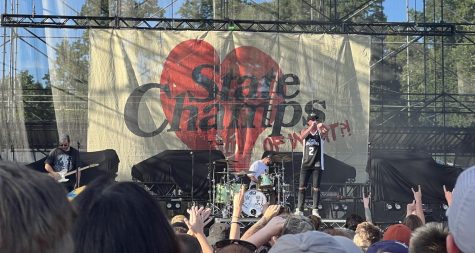 The State Champs: "1, 2, 3 let's jump!"
Fans of this alt-rock band, titled Champs Fam, had the time of their lives when the band was on stage, and for good reason. The way the group moved on stage when singing added a huge dynamic to their performance, as the way they moved complemented their songs' tempo, mood, and style.
The band came across as being professional as well, as they stood tall and had good posture throughout their performance, on top of interacting with the audience and singing or playing their instruments.
Their songs were also clean and clear, with engaging vocals free from any distracting sounds or frequencies. It is no surprise that they made many fans that day.

Mayday Parade: "The vibes are good, let's keep doing what we're doing." 
Opening with their hit "Jamie All Over," the Tallahassee, Fla., alt-rock band took the stage by storm.
The many fans of Mayday Parade were noticeable in the audience, from their shirts to the significantly louder crowd when the song came on. There was not much difference between on stage and in the crowd between all of the head banging, jumping, and moving back and forth.
Mayday Parade in concert did not disappoint fans of their prerecorded tracks. Simply put, they held up. And even more than that, they had everyone singing along.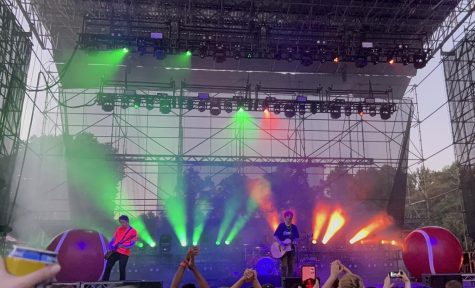 Waterparks: "Would you guys respect me more or less if I wore Waterparks merch?"  
Keeping with the fever dream-like state that the concert was headed for, punk-pop band Waterparks' set was full of what one could only categorize as shenanigans.
First, a quick wardrobe change into Waterparks merch, then a Minecraft plush ended up on the stage, and next, there were people crowd surfing to an acoustic song.
Nonetheless, Waterparks did not disappoint.
They opened up their set with their hit "Stupid for You" and followed it up with their latest single "Funeral Grey." The crowd was warmed up and jamming along. Crowd surfing surged on and even increased in numbers. All the band members were very friendly and conversed with the crowd, as if in a conversation. At one point, a person pulled out a photo of himself and the band, and they stopped for a second to recreate it.
As the sun went down, the music continued on as Waterparks promised to come back to Philly soon.
Neck Deep: "Let's dip"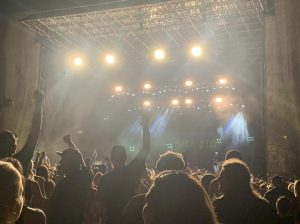 The last band that played at the festival was alternative group Neck Deep. Everything was leading up to this last set. The sun was finally set and the light effects added to the jamming vibe of the festival.
The band was very conversational with the audience and talked between sets. They even took a few seconds to make a political statement, hitting out against the Supreme Court's recent decision in Dobbs v. Jackson. Everyone then took a dip into their song "December" before picking it up again and getting everyone clapping along to "She's A God". By the end of each song, the lyrics were being sung louder than they were at the beginning because so many people were taking to the songs.
Crowd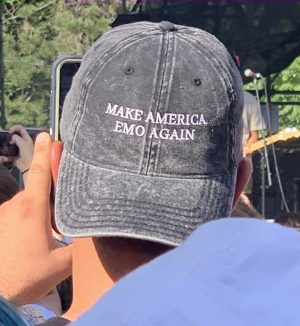 As the day progressed, people got more into it, arguably too much into it. This led to the artist encouraging circles and moshing as well as crowd surfing. This would lead to lots of pushing and shoving in the audience, often during the most well-known songs. Crowd surfing was especially dangerous since it was coming from the back and going toward the stage. Many people were dropped since people did not see them coming.
This was a big factor of the day that led us to favor a further back position from the stage than a closer one since that is often where the circles formed. The overall rowdiness of the crowd did add to the party vibe of the atmosphere. 
Weather
It was a bright, sunny day, but there was exceptionally hot and humid weather at the outdoor venue. Fortunately, there were designated areas of shade to cool off and a free water-refill station for everyone to use. People were allowed to bring in an individual clear plastic vinyl, or PVC tote bag to carry their merchandise and other items, but backpacks and outside food and rink were not allowed.
Closing thoughts
Despite the rowdiness of the crowd and the exceeding heat, we would come back because of the many talented artists that performed. As the sun set, the concert turned out to be a challenging but exciting experience that we recommend for all pop-punk and rock fans alike in the young to late-adolescent demographic.
–Aug. 7, 2022–