My trip to Hawaii: The age of over-tourism
There isn't much to say about Hawaii that hasn't been written, painted, or sung about in great length.
This July, my family and I explored the 11,000 miles of unique culture and geography found on the islands of Oahu and Hawaii (a.k.a. the Big Island).
The Arrival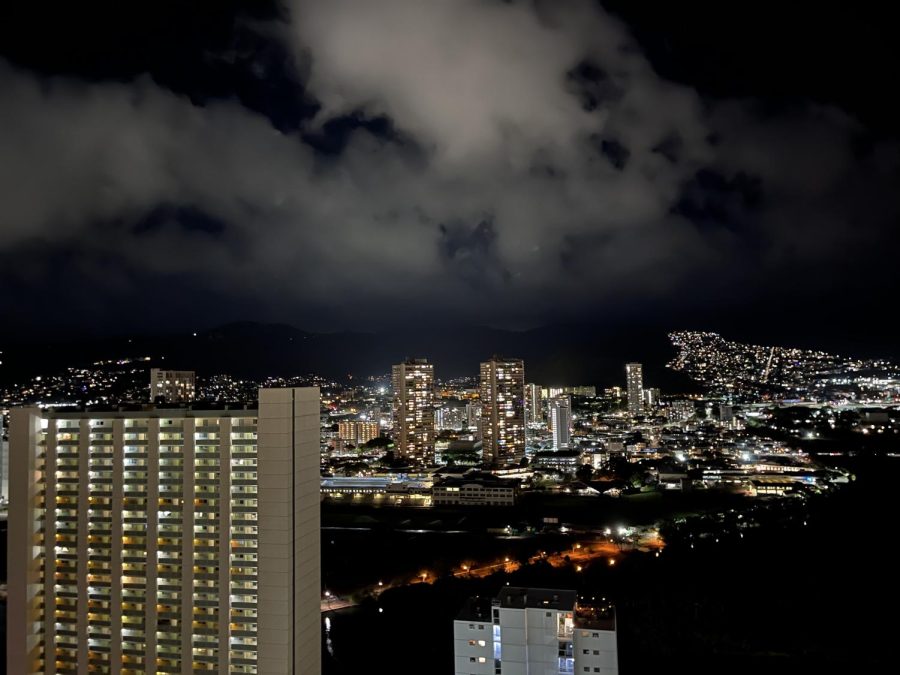 From the moment I stepped outside the Honolulu International Airport, chickens were active in nearly every direction. They were wandering the streets, pleading for food scraps — and  literally crossing the road. It's a charming detail and certainly a step up from the pigeons littering New York City. 
Yet, the similarities between Honolulu and New York don't end with pesky birds. Just like New York, large hotel complexes lined Oahu's coast. A bustling city, filled with architecture and tourists, did not reflect the tropical, Piña colada-drinking, hula dancer-filled paradise ingrained into my imagination. 
Maybe I just did not know where to look.
Food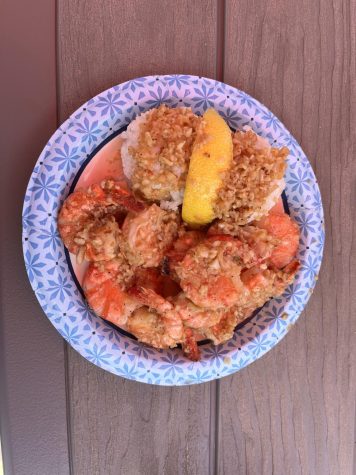 Oahu's North Shore felt like a completely different planet.
Winding roads, quaint little houses, and an expanse of foliage filled my window. My cousin, a nearly professional world traveler and staunch enjoyer of food, parked our rental car beside a graffiti-ridden truck. You wouldn't have considered it anything special, if it was not for the hoard of hungry faces buzzing in its wake. 
Giovanni's Shrimp Truck is family-owned and has been voted Oahu's Best Food Truck six years in a row. I could not have prepared myself for the sticky fingers and rich flavor they provided. The short menu of only five items almost felt like bragging, but any bragging on Giovanni's behalf was justified. 
After eating our fill, we wandered along the local shops of North Shore. Artists, fruit vendors, and coffee shops clustered the area. It was a beautiful reflection of life. 
A precious beauty that seemed all too rare. 
Pearl Harbor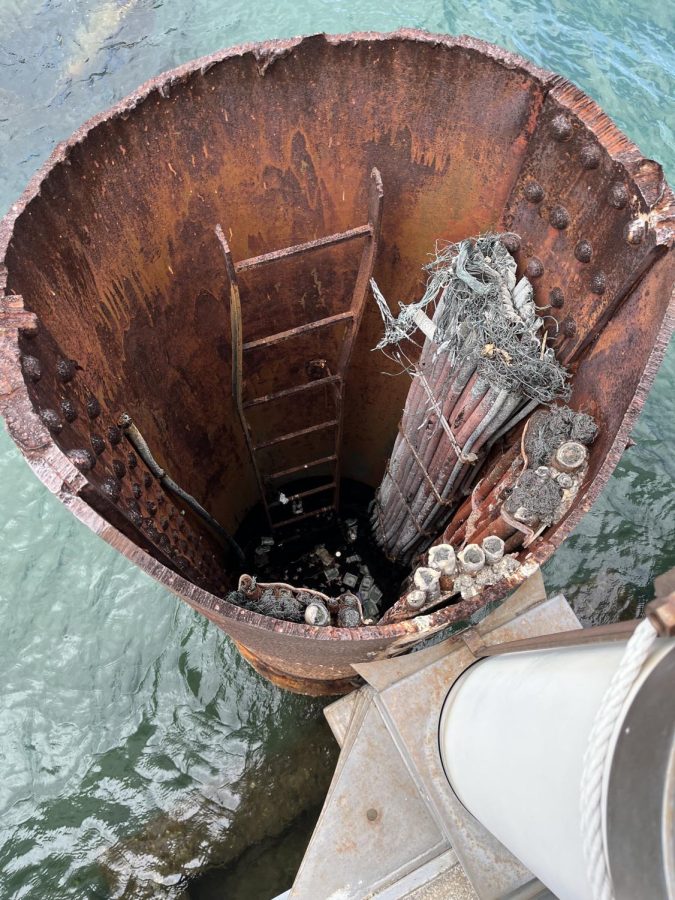 There's nothing more solemn than bloodshed. 
I confronted this reality in my visit to Pearl Harbor. Standing on the USS Arizona Memorial, the image of more than 1,000 dead bodies residing permanently beneath my feet persisted fiercely.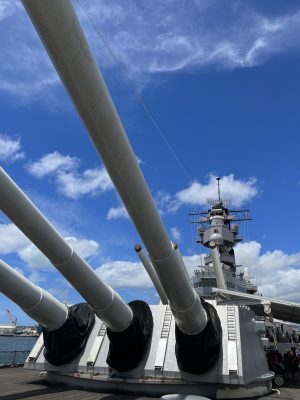 During silent contemplation, I watched other tourists laugh, shout, and smile. Leaning over the railing, I saw coins and dollar bills desecrate the visible wreckage of the ship.
The USS Missouri was more relaxed. I watched my grandfather's eyes light up at the familiar equipment, layout, and structure of the ship, undoubtedly stirring up memories from his service in Vietnam.
Wandering below deck with my cousin, we began to lose ourselves in the intricacies of the ship. As if sent through a time machine, we struggled to find our way back to modern day. 
When we did, a new adventure lay ahead. 
Wildlife 
What idiot would jump into shark-infested waters?
My cousin and I, that's who.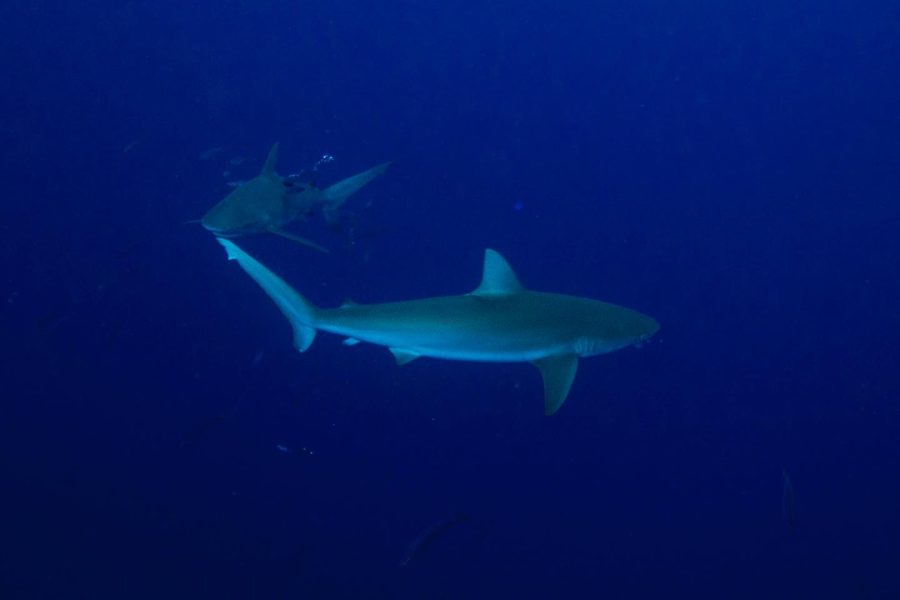 One Ocean Diving gives dare-devils the opportunity to free swim with sharks, the most common of which are the Galapagos. I had gotten a closer look at this particular species when I entered a shark cage two days before, but the thrill of swimming in open water added a new layer of excitement. 
The One Ocean employees began pointing out specific sharks they've seen from previous dives. Some even had names — like Smiley, the 14-foot Tiger shark. In others, they recognized physical abnormalities.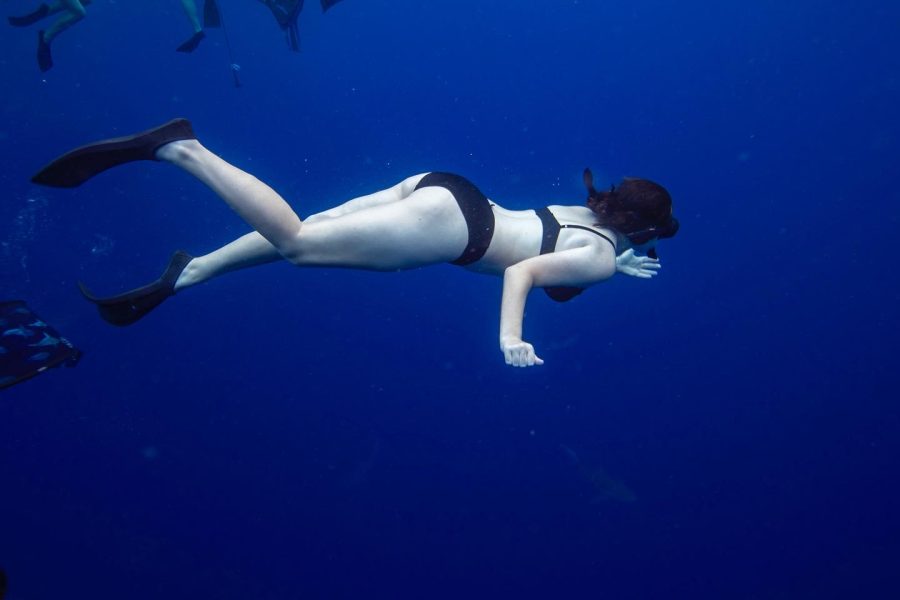 The crew easily identified one Galapagos shark due to its gaping mouth. Unable to hunt prey, the employees watch him get skinnier and skinnier with each dive. According to them, his jaw was most likely broken by a fisherman's hook, a practice that was largely banned last January. 
History and Culture
Do not take rocks from Hawaii. 
As someone with a vast collection of minerals, crystals, and stones, collecting a small keepsake from  a pretty beach is almost second nature. But to native Hawaiians, their land is sacred. 
According to legend, anyone who steals a rock is cursed by Pele, the goddess of volcanoes. The story says Pele views each rock as her child, enacting vengeance against thieves until they return what they stole.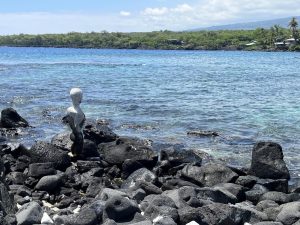 Standing in the City of Refuge, surrounded by beautiful stones lining the shore, an overwhelming air of sanctity lingered boldly. Officially named Pu'uhonua O Honaunau National Historical Park, the land I walked on represented a chance at freedom for ancient Hawaiians. 
Until 1819, the Kapu System required the enforcement of sacred laws through the penalty of death. These laws included walking in the footsteps of a chief, looking at a chief, or, for women, eating in the presence of men. By reaching Pu'uhonua, lawbreakers could seek forgiveness and purification from priests. The land was considered a safe haven, and upon arrival, they would not be killed.  
Looking into the coast, the intense history of this setting weighed on me. Was I welcomed here? 
Preserving Hawaii
Hawaii faces a modern challenge. 
With increased tourism, the price of real estate and rates of COVID-19 sky-rocketed. The state has even seen a water shortage, due in part to over-tourism. 
Locals I have met say it is common to have more than one job to supplement the high cost of living. Additionally, unprepared tourists who disrespect the community's wildlife, culture, and land also pose an issue. With roughly 10 million travelers visiting Hawaii per year, it's hard to imagine none of these concerns arising. 
With all of this to say, I was incredibly privileged to visit the state of Hawaii. But given this privilege, it is important to reflect on how one's actions can affect a global community. 
Whether or not you choose to visit Hawaii for yourself, always remember to treat the land and its people with great respect. Even back home, I try to carry the famous "Aloha Spirit."
–July 30, 2022–