Chicago suburbs host global cycling event, thrilling residents of all ages
On July 27, in Downtown Lombard, just a short train ride away from Chicago, residents of all ages packed the sidelines, just inches away from a cycling race with participants from 42 states and 16 countries. The Intelligentsia Cup, a 10-day racing event, has come to Lombard for the third year, thrilling local residents and stimulating small businesses in the area. 
Tom Schuler, co-director of the cup and a retired racer himself, said that there are around 500 participants a day. 
"We started on July 22, which is a Friday and we will finish this coming Sunday, July 31, at the Fulton Market in Chicago. Our stops are West Dundee, Glen Ellyn, Winfield, Mundelein, Lombard, South Chicago, Northbrook, Elgin, Lake Bluff, and Fulton Street," said the former Olympian.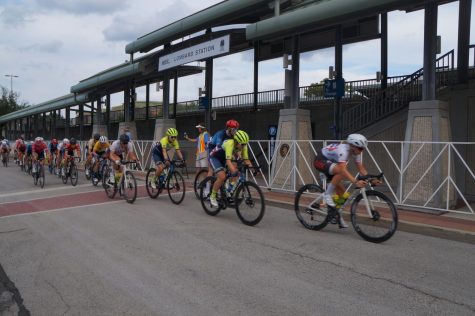 According to Schuler, there are different races for each skill level, and a family fun roll, where anyone in the community can bike. 
"As the day goes on, the skill level goes up. So in the morning we started at the beginning men, then the beginning women, and the intermediate men and the immediate women. We have a community fun event, a family fun role. Then the pro women's race before that family fun role, then the pro men's race to the final event," he said. 
A participant in the Men Cat 2, Stephen Bartels of Denver and has been cycling his whole life and racing for the past five years. 
"I've been wanting to do a travel race for a couple of years. And I have a lot of family kind of in the Greater Chicago area. It's been a lot of fun," said Bartels. 
Allyson Webb-Charland, who is originally from Quebec, Canada, and was competing with a French team. 
"We wanted to try out cycling in the United States. I've been on the French team, racing in Europe, but here, there are bigger road races," said Webb-Charland.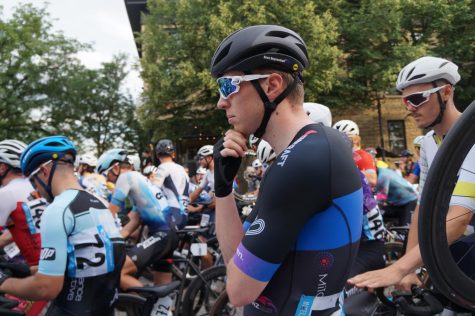 Yet the exciting racing is not just for the participants. The event is created for the spectators, allowing them a close-up view to all the action.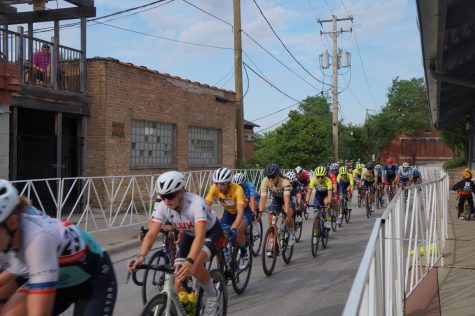 According to the Intelligentsia Cup website, "Each stage is designed with spectators in mind because crits are fun and exciting to watch! As a spectator you will be close to the action – the failures, the triumphs . . . and yes, the crashes."
"Of course we have the racers who are coming from all over the world. And then we have the community", said Schuler. "We really want this to be like, sort of a block party that happens to have a national caliber bike race alongside it."
Kim Angland, a Lombard resident, was excited for the cycling event.
"I'm so glad that they have it here. I think it's a great opportunity for kids to see this. And it's an opportunity to showcase Lombard, said Angland. "And biking is something that you can do for all ages, and as you get older, it's still a sport that you can participate in. And it's just great to see these athletes compete. I mean, there's a lot of strategy that goes into the race and everything. So it's great to see them."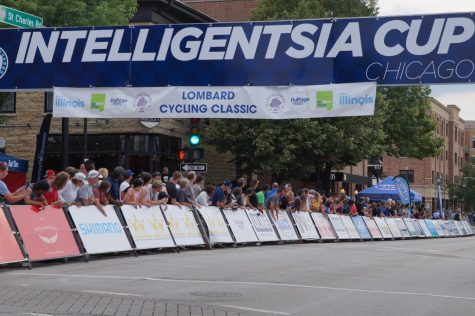 To organize the race and other sporting events in the area, the DuPage Sports Commission was created. Beth Marchetti, the executive director of the DuPage Convention & Visitors Bureau, said that the goal is for sports to drive visitors to spend more money in local businesses. 
"Intelligentsia has been around for many years and it has jumped around to some different communities but in 2019, it was in Elmhurst, Glen Ellyn, and Lombard, and Lombard was the first year that they were interested in running it, and they didn't really have anybody to help plan it," said Marchetti. "And so the Sports Commission was launched and we helped step in and acted as the local organizing committee.
"This year, we remarketed it as the Triple Crown, it's in three of the 10 communities in DuPage County. So Glen Ellyn, Winfield, and Lombard." 
Scott Niehaus, the village manager, said the event has immensely benefited the hotels and restaurants in Lombard.
"This race this week has brought 300 people that are going to spend nights in hotels. They're going to spend money in Lombard, they're going to eat in Lombard, they're going to drink in Lombard, and maybe they'll come back to Lombard," he said. 
Niehaus, along with many others, spent the evening watching the race from the Shannon's Deli rooftop. 
"I think if you look at this as a Tuesday night on the rooftop of Shannon's, I don't think it's as crowded as normal," he said.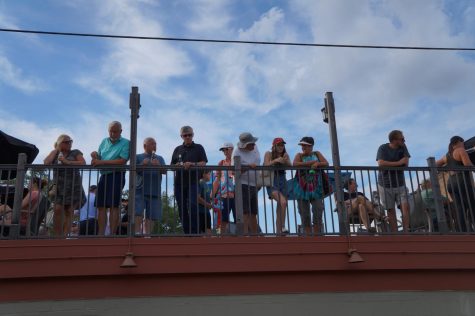 The race has energized the downtown on a normally slower night, according to Marchetti. 
"On a Tuesday night in Lombard, they may not have had this many people come into their area. They were actually concerned about blocking off streets as rightfully so," she said. "But then, they see so many people come out and you know, especially at nighttime when they can have a meal, watch a really great race, and really kind of get their youth interested in biking again, and in fact, our family fun ride. We have 108 people registered for that."
To get spectators to come enjoy the race, it is up to the community to send the word out and Lombard has used creative plans to do so. 
"We've got a drone photographer from last year that was here. We've got balloon guys who helped bring more kids out. We have the family fun ride. So anything we can do to get the eyeballs," said Marchetti.
"Some people might not like it because of traffic and parking, but it's just one day," said Niehaus. "So if you want an omelet, you gotta break some eggs."
–July 27, 2022–