A letter from Ukraine: 'It is horrible to see hundreds of desperate and broken lives, especially when you're just as helpless'
Millions of souls are scattered all over the globe! Did we ever think that we would join them? We are 17 years old. We lived in Chernihiv region for whole our lives. And now we are refugees from Ukraine, split from our family, and finding safety in Germany, telling you about how our mother and we left Ukraine.
Watching the Ukrainian news, seeing the horrible things Russian soldiers were doing to innocent civilians, and realizing the risk that our lives were placed in, we had to make up our minds to leave home. It was the hardest decision we've ever made.
The place that we feel the most comfortable is all of Ukraine: we are accustomed to the Ukrainian mentality, people, and land. When we planned our future, we never thought we would travel like refugees. We dreamed about visiting every place in the world, but every fantasy ended with returning to Ukraine with happy memories and many new experiences. And now, our dreams have been destroyed. However, not every closed door is locked.
In Ukraine, men are forbidden to leave the country during the war. So our father and brother stayed at home. Our last hugs with them were very tight and memorable. If only we could hug them again soon. We were allowed to take one backpack per person and one suitcase for the three of us. Although the demanded luggage capacity wasn't very huge, we couldn't resist taking "Kobzar" by Taras Shevchenko. His poems have accompanied Ukrainian folk in fighting for freedom for many years. And we took "Kaminnyy khrest" ("The Stone Cross") by Vasyl Stefanyk. It describes the emigration of Western Ukrainians overseas at the turn of the 19th and 20th centuries. These two books are very important for us now.Apart from giving us support and consolation, they've become a part of our homeland, something that reminds us of being at peace!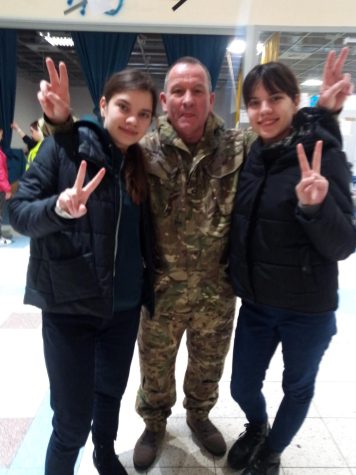 While we were waiting for the green light to leave Ukraine, we feared how our life would change. The most dangerous part of the journey that we had to embark on was leaving the Chernihiv region, making a drive that lasted nearly eight hours, and successfully reaching Kyiv. 
The group of 21 people, only women and children, was escorted over the river by boat on March 29. We heard explosions, but they were far away from us. People prayed in their thoughts, so we felt the protection of God. It's hard to forget the way those mothers tried to calm down their kids. One girl pointed at the house and asked her mom, "Is the house destroyed?" Her mom replied, "No, dear! The house is unfinished."
Volunteers met us on the other side of the river. There were two young boys who had already helped to evacuate people from the hot spots. After hearing stories about what they've gone through we were left speechless. They are very young and it's sad that they have to spend their youth in such a way.
We were divided into two vans and started moving to Kyiv. Fortunately, no explosions or sirens caught our attention. For a while, we forgot we had the war there. Only checkpoints made us come to our senses. We were glad to have such an amiable driver who distracted us from the current situation with his funny stories. We agreed he would bring us home after our victory!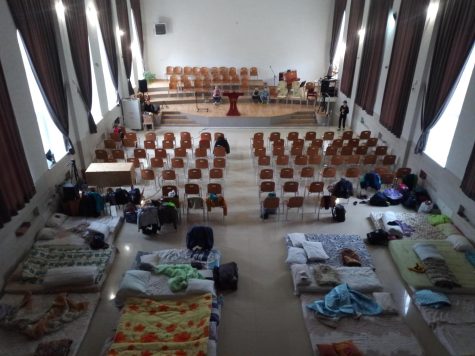 The volunteers left us in a center. We spent one night in the capital. The Ukrainian air defense worked well, so there was nothing to worry about.
The following day, our group went to Ternopil, the western Ukrainian city. There were three vehicles. We were lucky to choose the van with a driver named John from Texas. Of course, there was also a Ukrainian volunteer who helped with translating. My sister and I have always wanted to practice our English with a native speaker. So we were delighted to have the opportunity to!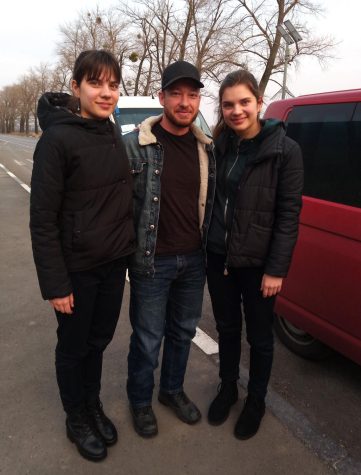 The volunteers drove us to Praying House in Ternopil. While we were passing quiet cities, where shops work well and the products are stocked, women were crying because we'd already forgotten the time when our lives were so carefree. After living in terrible conditions, it was unusual to watch people rush to their jobs without having to stand in a long queue to get a single loaf of bread.
We arrived at midnight and immediately drifted into sleep. The room was filled with mattresses on the floor. We had free breakfast, lunch, and dinner there. We remember one moment when there was a siren and a little girl asked her mom to go to a shelter. Her mother explained that they were in a safe place and nothing threatened them there. Children were afraid of being in danger, even in the relatively peaceful area we were in.
In that city, our group split up and went in different directions. Some of them stayed in Ukraine, and others went abroad to stay with relatives. My mother, my sister, and I decided to cross the Polish border and move forward. We still didn't know where to go next. There were many options, and it was hard to choose one.
"
It was hard to believe those were our last minutes in Ukraine, and we were about to leave our Motherland indefinitely."
When we were standing in a queue to cross the border, many volunteers from different countries came to us, gave us sweets and food, and tried to improve our moods. It was hard to believe those were our last minutes in Ukraine, and we were about to leave our Motherland indefinitely. On our way to the border we looked very attentively at Ukrainian landscapes, trying to keep the picture of it in our minds longer. 
There were many volunteers from the Polish side. They proposed to us many different things; no Ukrainians left without their attention. My family didn't know where to go next, so we came across one woman who suggested that we go to what used to be a Tesco supermarket in Przemysl. There were hundreds of Ukrainians! Some of them were determined in their next step, but others still didn't have any plans.
It seemed that people's problems touched us all the time we were there: We were forced to listen to them because it was crowded and no silent space was available. It is horrible to see hundreds of desperate and broken lives, especially when you're just as helpless because you're one of them.
We spent one night in Tesco without actually sleeping. 
Once, we saw a British military man who was watching children playing in a room. We don't know what his thoughts were about at that moment but it seemed to us that he was happy to see kids away from all the horrible things. We decided to make acquaintances with him. He was named William and he was from England. The man supported us a lot and raised our morale. He was glad we stayed positive and robust because most Ukrainians were sad and desperate. We keep in touch with him now. William continues to fight for freedom in Ukraine alongside Ukrainian men. We hope we will meet him again in rebuilt Kyiv at Independent Square because it is very symbolic.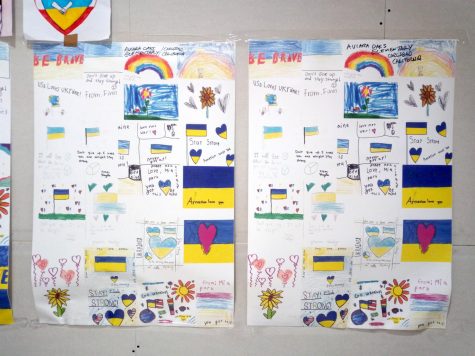 We were asked to choose which country we would like to relocate to. As we studied German in our lyceum, we decided to go to Germany. We were to go to Saarbrücken, but because of the bad weather, the trip was canceled. 
We were surprised and didn't know what to do. We wanted to leave Tesco and be alone. A few hours later, a German volunteer was looking for two families to commute to Munich. We understood that it was our chance. So the volunteer brought us to two German men who could take us all the way there. Their names were Benjamin and Johannes. We talked to them in English, so our trip to Germany wasn't boring. We were lucky to make friends with such kind and supportive people. We have great appreciation for everything they've done for us and other Ukrainians. We still keep in touch with them now, always expressing our gratitude for the work they sincerely do to help refugees.  
While we were driving, the volunteers were looking for a host family near Munich. We were a bit excited about that. My sister and I were sure that everything would be fine because we are lucky to meet good people and trust our fates. So in a few hours, we were told that a family of four was ready to help us. Finally, we could rest not in the refugee center but in a house with many different amenities.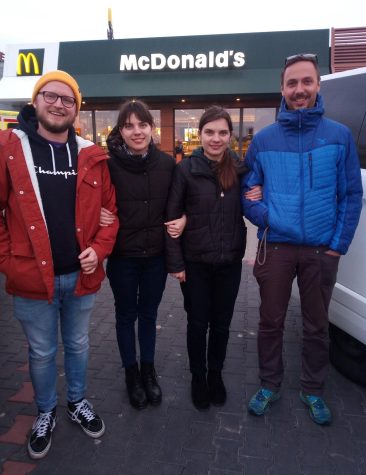 We arrived at approximately 3:30 am. Since that time, our new chapter in life started.  
What has happened to us shows that even on your worst days there are people who can make you smile. Trusting your fate sometimes can be good and can be the last hope you have.
We are grateful to every person we have met. Helping us, you helped Ukraine. This tough time helps to understand that despite all bad things happening around you, life goes on.
We have to learn how to be happy in memory of those who fought and still are fighting for us. We surely believe all our heroes who are not with us anymore would wish that their deaths wouldn't stop the lives of those they love. May their dreams come true!
(Editor's note: The teenaged authors of this report from Chernihiv region, Ukraine, asked their full identities be withheld.)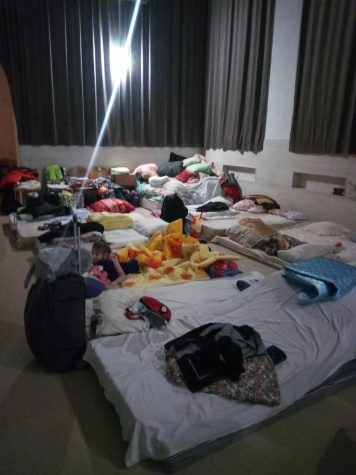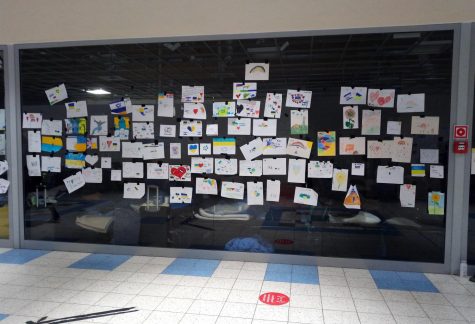 –June 13, 2022–