"WILD: A Musical Becoming" has a lot of love to share with audience, environment
World-premiere musical, featuring talents of Idina Menzel, YDE, Diane Paulus, and V, playing at American Repertory Theater through Jan. 2
When there's three standing ovations before a world-premiere musical has even ended, you know it's a good one. 
On Dec. 9, 2021,  opening night of "WILD: A Musical Becoming" at American Repertory Theater in Cambridge was exactly that — a smash hit.
Written by V (formerly Eve Ensler)  and book and lyrics by Justin Tranter and Caroline Pennell, "WILD" takes the audience to a farming town known as Outskirtzia. It's here that we're introduced to farmer and mother Bea (played by Idina Menzel) and her imaginative daughter Sophia (played by YDE). 
But there's no big extravagant set and overdone costumes to bring us into the world of Outskirtzia. The director, Diane Paulus, using the set of the previous production, had it dressed minimally with greenery and wooden stools for actors to sit, and the costume team created pieces from recycled, thrifted, and vintage clothes. Both of these choices embrace the A.R.T.'s core value of embracing regenerative practices, something that is also essential in the ideologies of climate activists. The audience is invited to imagine the smaller details of the scenes as they change.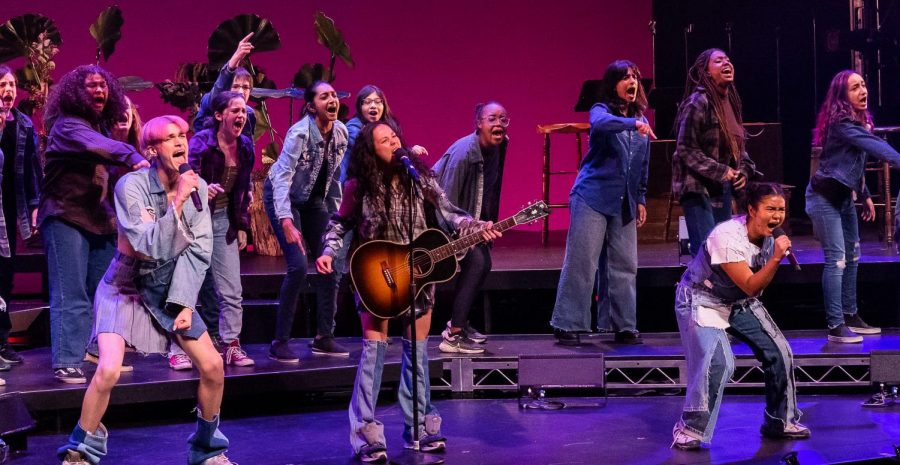 With powerful music and such an important message, it's incredibly easy to get sucked into the story, though. "WILD" is much more than just a cookie-cutter musical, it's a call to everyone, young and old, to start caring about the wellbeing of our planet. It shows us that if we can focus on what brings us together instead of what separates us, we can save the uncertainty of our future. As it was put so eloquently in the show, "We have to have love for each other and the Earth." 
Beyond the overarching message, there's even more that "WILD" has to offer audiences. Two of the most central themes of the show are understanding and unity: parents learning to understand their kids, adults putting aside their differences to work together, kids owning up to their mistakes and joining forces, all in the name of saving their future. There's plenty of places to see yourself and connect to the show, and it's in these moments that you really begin to feel hopeful — maybe we really can fix the climate disaster.
Regardless of why you're there, you'll be glad you went, and you'll sure be humming the catchier melodies of "WILD" on your way out, feeling like you can change the world.
("WILD: A Musical Becoming" is playing at American Repertory Theater through Jan. 2. For information or tickets, go HERE.)
–Dec. 14, 2021–