Faith Pinho urges young journalists to fight back against gendered prejudices
Faith Pinho's smile lit up the Zoom call as soon as she appeared. It was clear a true professional had arrived and was ready to share her wisdom with the listening ears of the Headliners of Summer newsroom. Pinho shared personal experiences, tips, tricks, advice, and — what stuck out the most — how she's faced adversity as a female breaking news reporter.
Pinho, a Boston native, has been a reporter with the Los Angeles Times since 2018. She grew up listening to Boston's local NPR station and began journaling at a young age. Writing has been a long-time passion for her, knowing journalism was her destined path before she was even 10 years old.
"
Show them that you're there to do your work and that you're going to get it done."
— FAITH PINHO
After graduating from Washington and Lee University in Virginia, she interned at WBUR, Boston's NPR news station; freelanced at WMRA, an NPR station in Virginia; and then began a fellowship at the Indianapolis Star newspaper. In 2018, she began work at the Los Angeles Times as a breaking news reporter.
Collaborative communication as a breaking news reporter is not only wanted, it's expected. Between editors, managers, co-workers, and the public — perspective is important. However, not everyone is treated equally during collaborations.
"I feel like, sometimes, men can take me a little less seriously than I would like," she said that evening. "Especially men in authority positions, like law enforcement."
"Women Journalists and Freedom of Expression," a report for the Organization of American States, recognizes the increase of women in the field of journalism. Nonetheless, the shadows that follow this fact are the societal stereotypes and prejudices that remain a challenge for women — especially young women such as Pinho.
Working as a young reporter for the Daily Pilot, she recalled her first "dig."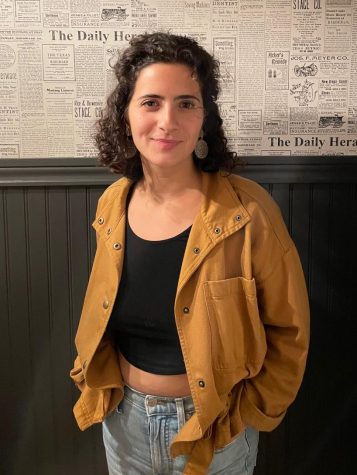 "I was interviewing these two guys on the street, and they just started talking about my legs," she said. "They just completely stopped the conversation and just had a whole conversation about my legs."
"I was like, 'Yeah, cool, back to homelessness.' "
It's moments like these that showcase the disparities in how men and women are perceived. Even in professional settings, adversity may still be perched around the corner. But these situations haven't slowed Pinho.
"But you just kinda show them — well, not show them who's boss, but show them that you're there to do your work and that you're going to get it done," she said. "Regardless of how they view you."
And she continues to do just that.
Last week, her story surrounding the controversy of a George Washington mural at George Washington High School in San Francisco ran in the Times. She has multiple stories on the way, some of which she's preparing for intense responses from the public. She also has a podcast in the works.
Pinho showed in her conversation with the Headliners student journalists she has what it takes — all while staying bright, honest, and sincere. A great role model for aspiring journalists, leaving the impression that adversity should be scared of them, not the other way around.
(See Faith's LA Times profile, and check out her Twitter @faithepinho)
–Aug. 3, 2021–