Best ice cream in the United States? Meet Conscious Creamery in Sacramento
★★★★★ — Something for everyone, while helping the planet
Ever heard of a place that sells delicious ice cream and gives out free dog treats? At Conscious Creamery, the workers do just that.
Conscious Creamery is an ice cream shop located in Sacramento, Calif., on Broadway where it sells a variety of ice cream and non-ice cream related items, including Gelato Tacos, coffee, tea, and cake. Not only is it family owned, but every food item is gluten free and vegan — including its free vegan doggo treats.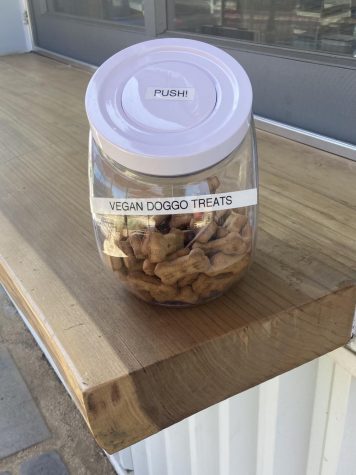 Although dogs aren't allowed inside the store, the Conscious Creamery team thought it'd be a good idea to give out free dog treats so the customers treat themselves and Conscious Creamery treats the dogs as well.
Outside of the shop sat a nice set of tables and chairs with huge, red umbrellas that provide shade. Entering into the place, upbeat music from The Weeknd was playing and cool air was flowing — a nice break from the boiling California heat. A unity sign, art work, and color filled the walls.
Employees Mars and Savanna were welcoming and assisted in deciding what to get, eat, and enjoy. Some flavors available were Blueberry Baby, Salted Caramel, Watermelon Kiwi Sorbet, Almond Orange, Maple Bacon, and Matcha Strawberry Swirl. Sizes range from small, medium, large, and pint size. All materials are sustainable, such as the biodegradable cups and spoons, and using dry ice keeps the ice cream cool.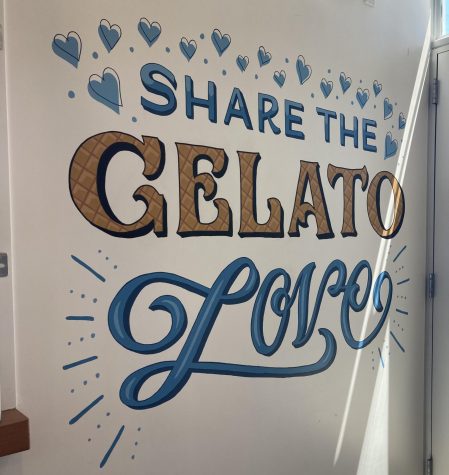 If you want the Vanilla Bean, don't get the small size, it's not enough. The Vanilla Bean is simply vanilla. Sometimes dairy products can distract from the actual flavor, but going to a vegan ice cream shop allows for that pure vanilla bean flavor to be distinct from other ice cream shops with the same flavor. You can see the flakes of the vanilla bean and your conscience is more clear knowing that the utensils you're using to enjoy your ice cream are sustainable.
Based on personal observations, the Dark Chocolate Truffle is what you should get — regardless if you're following a vegan diet or not. Without all the dairy, it just has that authentic chocolate taste: creamy and rich with a taste of the truffle. Get the flavor in a pint size (I'm glad I did).
The Gelato Taco and Rocky Road aren't super sweet, which can be good for people lacking a sweet tooth, but not the right choice for others who like that strong sweetness. The vanilla inside the Gelato Taco differs from the Vanilla Bean, and there's some chocolate on both the inside and outside covered with a chocolate coating and nuts.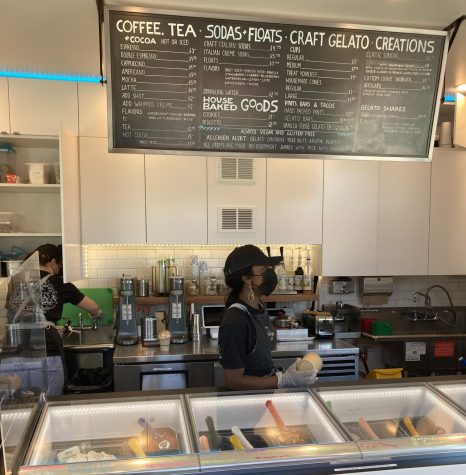 My first bite of the Gelato Taco was frozen hard, same with the Rocky Road, although it's flavor was unique. Surprisingly, the marshmallows throughout the Rocky Road tasted like real marshmallows, and the nuts gave it a sweet and savory taste simultaneously.
The menu can be perceived on the pricey side, but note that the food is vegan and gluten free, so it's well worth the price. Some of the spoons can be tiny, which can make it hard to grab a huge bite of chocolate. But, remember, they're sustainable materials, leaving you helping the planet while enjoying your ice cream. However, some items will contain nuts, such as the Gelato Tacos, but even there's something for everyone.
Vegan or vegetarian, meat eater or lactose intolerant, someone can find something to enjoy. Conscious Creamery is just like its name, conscious of what it sells and a refined creamery. Definitely a place you should stop by to beat the heat by eating gelato.
(Conscious Creamery, 3400 Broadway Suite 100, Sacramento, CA 95817, 916-407- 1175, https://www.consciouscreamery.com/)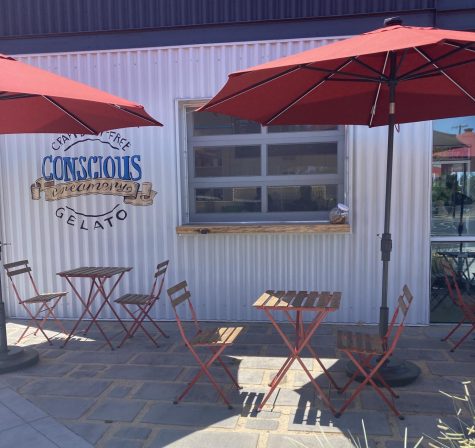 -July 22, 2021–