A very colorful tournament: A rundown of the Minecraft Championships 'Pride' event
The 15th Minecraft Championships (MCC) event was held June 26, 2021, featuring new teams and creators. MCC is a monthly virtual Minecraft tournament organized by Noxcrew featuring large content creators such as Dream, Tommyinnit, and Technoblade. Teams of four competed in a series of minigames testing core Minecraft skills: combat, parkour, building, and more. The entire event was streamed on YouTube to more than a million concurrent viewers.
"
We really came together to make a difference tonight and I'm so thankful for all of you! Happy Pride!
— Scott Smajor (MCC Organizer)
This MCC, which was the second event of its second season, was celebrating Pride month. Noxcrew partnered with Youtube Gaming and The Trevor Project, a global nonprofit that provides suicide prevention resources to LGBTQ+ youth, to host the special charity event. Viewers were able to donate to The Trevor Project as they watched their favorite creators play. MCC set donation milestones before the event, starting at $5,000.
Due to the charity nature of the tournament, the points, wins, and placings collected did not count toward a player's overall tournament statistics. 
Noxcrew also announced the addition of new features to the tournament. For starters, MCC featured more LGBTQ+ content creators, including JoeyGraceffa, GizzyGazza, and AyCristene. Noxite released an update video a day prior to the event outlining game events and in-game changes. Notably, the winners of this tournament received an exclusive Pride coin. 
Did someone say exclusive coin for the winners?! pic.twitter.com/4G43rCGY3q

— MC Championship (@MCChampionship_) June 19, 2021
Preshow Hype 
After the teams for this tournament were fully announced on MCC's Twitter account on June 20, fans flooded Twitter and Reddit with predictions for winners and team placements. 
predictions for mcc:

pink parrots win in a dramatic dodge bolt match.

techno's first in individual.

wilbur will die early in sky battle.

grian popping off in build mart.

battle box 8/9 win.

jimmy's proving he is a good team player.

— Riz (@Riznist) June 26, 2021
Fans built up hype for the event in the subreddit r/MinecraftChampionship by posting fan art and memes related to the newly announced teams. 
A few hours before the event, users in the subreddit joked about how they were  getting ready for the event. User u/Olbord posted a series of images (a man getting a facial, styling hair, spraying cologne, and donning a suit) with the caption, "me getting ready to watch Pink Parrots on MCCP tonight:". 
As fans excitedly awaited the beginning of MCC, they reminded others to be civil in their discussions of the event.
"I hope that despite the increase in viewership that everybody is respectful to the cc's and Noxcrew for working hard to make this event possible for everyone's entertainment, and of course charity," wrote Twitter user @teesiss. "It's not a competitive one but one worth watching :)." 
Just an hour before the tournament, MCC received more than $30,000 in donations toward The Trevor Project, smashing their initial target. Due to the outpouring of donations, Noxite planned to stagger milestone announcements to "make sure the event is as exciting as possible," according to @MCChampionship_ on Twitter. 
Overview
As 3 P.M. EST, the event's start time, rolled around, participants started logging into the game and turning on their cameras to stream. While creators didn't stream this tournament, a majority of them live-streamed it on Youtube. Viewers could keep track of statistics and stream using the mcc.live link.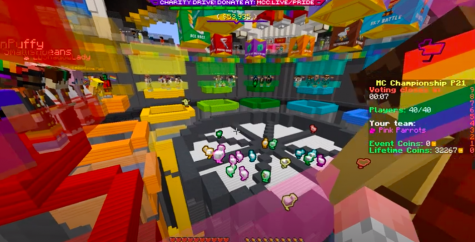 Participants were brought to the "decision dome," where they could choose the game they wanted to play for the first round by throwing chicken eggs into a disk. Many tried to vote for the game they were worst at, since the first game would be worth the least amount of points. "Ace Race," a game in which players race to finish a course, was picked first. Due to Illumina's speedy performance, the Aqua Axolotls, ended up finishing first in team points.
Next, players went head-to-head in Sky Battle, a fast-paced combat game played in the sky. TapL and the Orange Ocelot team dominated the competition, racking up a large amount of both survival points and points from kills. Then, after there was a tie in games, Built Mart, a game where players must "shop" for items to build monuments, was chosen by chance as the next game. Players are tested on communication and resource management skills in this building-based game. The Red Rabbits (CaptainPuffy, LDShadowLady, SmallishBeans, and Vikkstar123) scored first place by a narrow margin.
Hole in the Wall was played next. In this game, which is a play on the American game show with the same name, players must stay alive by navigating through holes in moving walls. The Orange Ocelots, whose members took three top-five leaderboard positions, won by almost a thousand points. 
Players then entered a 15-minute "halftime." Halftime gave players an opportunity to not only rest, but to compel their viewers to vote for the next game. During an "Audience Blockout," viewers could vote for the next game on a Twitter poll. According to the poll, "The game with THE LEAST VOTES will be played next." Parkour Tag, winning only 17.1 percent of votes, was chosen.
🚨 AUDIENCE BLOCKOUT 🚨

For the next five minutes, YOU control the decision dome! The game with THE LEAST VOTES will be played next 👑

— MC Championship (@MCChampionship_) June 26, 2021
Parkour Tag is a game of cat and mouse; a "hunter" chosen from one team must navigate around a small area to catch three players from an opposing team. While the Purple Pandas (JeromeASF, King_Burren, Mefs, and The_Eret) won first place, the game standings changed little; the Orange Ocelots remained in first place followed by the Pink Parrots.
In the middle of Parkour Tag, Pink Parrots team member Wilbur Soot experienced misfortune when the fire alarm in his office building went off, forcing him to evacuate and leave the game. Fellow Minecrafter Ph1lza was subbed in for Wilbur Soot in the next game for fairness, creating the first five-player MCC team. 
After this mishap, players competed in Battle Box, a nine-round combat heavy game where two teams competed to fill the center of the map with colored wool. With three of their players in the top-five leaderboards, the Lime Llamas came out on top followed by the Pink Parrots; this boosted the Pink Parrots to first place in overall points. By this point in the game, Noxite had already raised a total of $160,000 for charity.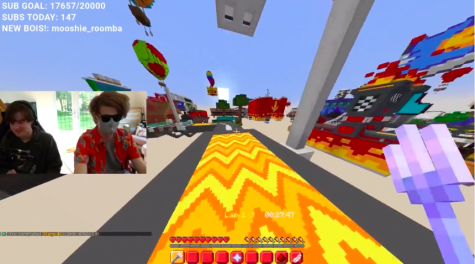 Afterward, players competed in TGTTOSAWAF (short for "To Get To The Other Side And Whack A Fan"), with the goal to cross an obstacle course and "whack" a Non-Player Character (NPC). Having a great start, the Pink Parrots were once again able to bag victory and retain first place. 
Survival Games was played last, and would determine the two teams that would go on to compete for victory. Players roam a large area in this intense resource gathering and combat-based game, with the goal to eliminate others and be the last team standing. The Aqua Axolotls managed to both survive the longest and eliminate a decent amount of players, securing their spot in the finals. The Orange Ocelots, which came second in the game, rose to second place in the tournament due to the game's 3.0x coin multiplier. The Pink Parrots came in third place by only 2 points, missing the chance to compete for victory in the final game, Dodgebolt.
Despite their disappointing loss, the Pink Parrots remained optimistic about the event. "Guys, don't worry, that was all for charity. That was the main goal of entering this event: have fun and raise a ton of money for charity," said Technoblade, team captain of the Pink Parrots, to his stream viewers. 
In Dodgebolt, the two highest point-scoring teams compete head-to-head in a long-ranged shooting game. Players must try to both dodge the other team's arrows and get members of the opposing team to win. After winning the first two games, it seemed to many that Orange Ocelots had secured their victory. However, Aqua Axoltol's Illumina pulled off a resounding comeback, winning the next two games and tying the teams. 
After everyone but one person from each team remained in the deciding game, Aqua Axolotl underdog Ryguyrocky shot Orange Ocelots Sqaishey, securing victory for the Axolotls. 
Aftermath
After the event ended, creators participated in a 20-vs.-20 player dodgeball as part of reaching a $200,000 donation goal. The game was as chaotic as it sounds, but both players and viewers had fun indulging in the madness. 
Overall, the 15th MCC tournament was one to be remembered. Fans were overjoyed when MCC participant Tubbo and fellow Minecraft content creator Ranboo met up in-person to play and practice for the event. The first five-person MCC team was created through an unexpected surprise in Wilbur Soot's office building. Finally, and most importantly, the event raised more than $340,000 for The Trevor Project, and for LGBTQ+ youth. 
"My heart is happy and full after tonight. Everyone had a blast in the Pride MCC, and not only did we raise over $340k for charity, we also had well over 500k peak viewers!" wrote one of MCC's organizers, Scott Smajor, on Twitter. "We really came together to make a difference tonight and I'm so thankful for all of you! Happy Pride!"
-July 3, 2021-