Evita Griskenas perseveres on her way to the Olympics 
In September 2019, Evita Griskenas finished eighth all-around in the 2019 Rhythmic Gymnastics World Championships in Baku, Azerbaijan, thereby securing one of two spots for the United States in the next Summer Olympics. 
In December of that same year, Griskenas was honored as the NextGen Female at the Panam Sports Awards.which said that she had "dominat[ed] her competition on the way to winning four gold medals, and one bronze, the most by any athlete at the Lima 2019 Pan American Games."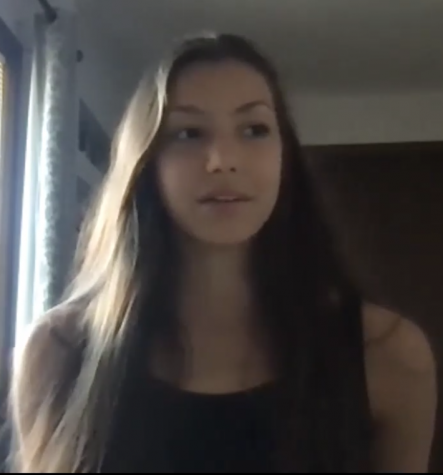 This week, Griskenas is in St. Louis for the US Olympic trials, where the representatives who will go to the Tokyo Olympics will be officially named. 
Yet, despite her achievements, Griskenas spoke modestly, the Olympic trials less than a week away. She spoke to Headliners of Summer reporters from her bedroom in Orland Park, Ill., in the suburbs of Chicago. Her journal, filled with five years' worth of positive thoughts and fond memories, lay nearby. Her cat made a guest appearance several times during the call. 
The 20-year-old is also a student at Columbia University, planning to declare her major as psychology. Griskenas recently finished her freshman year of college, and the classes had all been conducted through Zoom sessions. However, the pandemic's style of online classes isn't a foreign aspect to her, as she has had to go abroad many times for her career in rhythmic gymnastics. 
Griskenas recalled her interest in the sport began at age 4, after she watched Russian rhythmic gymnast Alina Kabaeva on TV.
"I said to my mom, 'I want to do that, I want to do that!' and of course I got laughed at. But, I kept asking, and then I was taken to an artistic gymnastics gym… I took one look at the gym and I refused to do anything because I said this is the wrong gymnastics, and I made her take me to a rhythmic gymnastics gym."
"
In my sport you don't last very long, so you can't go to like three [or] four Olympics like some other sports. So [for a] lot of people this is their only chance."
— EVITA GRISKENAS, who is competing this week at the US Olympic trials
Because of COVID, Griskenas's usual training sessions have had to be adjusted, since gyms were being shut down. Her coach set up Zoom sessions for the gymnast to practice her routines and Griskenas used her basement as her training center. 
"We did what we could," Griskenas said. "We learned some more apparatus handling and my ceiling was really low… I have a video on my Instagram, where I was dancing around and ended up punching the ceiling, and I also broke a light bulb. My parents were very pleased with me."
She didn't have another alternative for a training location, although she was able to go outside for practicing tosses. However, for activities like somersaults, Griskenas strongly advised not to practice on the blacktop.
The pandemic also put a hold on the Olympics, which led to confusion as to what would happen to athletes who were supposed to be competing in Tokyo in 2020. 
Griskenas said, "In my sport you don't last very long, so you can't go to like three [or] four Olympics like some other sports. So [for a] lot of people this is their only chance, and so when it was being postponed, there were talks of it being canceled potentially. A lot of people really stressed out, including myself."
Since the Olympics were postponed instead of canceled, Griskenas has a shot at attaining victory for the United States. 
Many safety measures will be implemented at the Olympics, with only residents of Japan being allowed to go to the games. According to the New York Times, athletes will have to undergo daily COVID testing, while "coaches, officials and members of the news media, [are cautioned to] avoid public transit."
"This would have been my parents' first competition seeing me internationally, but they can't go," Griskenas said, regarding the announcement that only domestic spectators would be allowed to view the games in person.
–June 22, 2021–