It's almost time for Evita Griskenas's Olympic moment
The 20-year-old Columbia University student talks about her life in rhythmic gymnastics and working toward the Summer Games in Tokyo
With so many changes in the world with the coronavirus pandemic still continuing today, there is no doubt that people are pondering the same questions: Will the 2021 Tokyo Olympics happen? What changes will happen to the traditional world of the Olympics as we know it? Will the pandemic affect any athletes who have been training for this moment their entire lives? 
Evita Griskenas will be competing this week in the US Olympic trials for rhythmic gymnastics in St. Louis. On Wednesday, June 16, she spoke to Headliners of Summer student journalists through a Zoom meeting about her plans for the 2021 Olympics. 
Evita, who is 20 years old with very long brown hair, called from her bedroom in her hometown of the suburbs of Chicago. She was dressed very comfortably, sitting in a chair surrounded by her journal of five years' worth of memories at her side and her gray cat that was close to her the whole time. Evita was very kind, friendly, and outgoing throughout the meeting. She talked very openly about all things having to do with her experiences, moments, and upcoming competitions. 
"
I love giving my energy to the audience and receiving their feedback, as well."
— EVITA GRISKENAS
When asked about what inspired her to start gymnastics, she answered, "When I was 4, I saw this rhythmic gymnast named Alina Kabaeva on the TV and I said to my mom I want to do that and I got laughed at, but I kept asking and then my mom took me to an artistic center gym. She said that she had never been more embarrassed because I told her it was the wrong gym and made her take me to a rhythmic gymnastics gym, where here I am 16 years later." 
She added later,  "There are not many chances to compete in the sport of rhythmic gymnastics and it is not a very popular sport in the USA."
Her tone got very joyful and she had a lot of expressive hand movements, full of excitement, when she mentioned some of her fondest memories of gymnastics that she has collected in her journal and what she loved the most about doing the sport. 
"I love giving my energy to the audience and receiving their feedback, as well, " she said.
Evita is a three-time silver medalist at the USA Senior National Championship and the USA Junior all around national champion in 2015. She has been training her entire life to secure a spot in the Olympics in rhythmic gymnastics.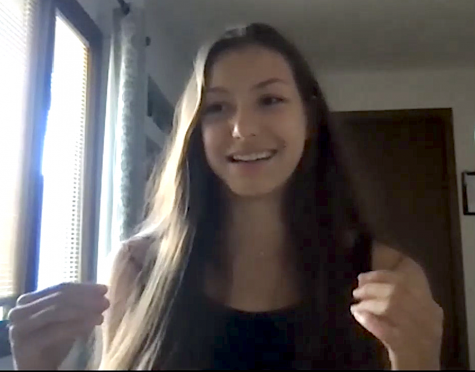 She competes in the individual category rather than the group category and does four events of floor routines that are each about a minute and a half long and contain a mix of apparatus to handle. Hoops, ribbons, ropes, and clubs are some you could expect to see. Which equipment is used in each routine is changing each year and Evita says, "I can catch them all, bounce them all, roll them, and toss them," leading her not to have a preference of one type of equipment over another. 
There is no doubt that Evita is passionate about rhythmic gymnastics as she has even written  two articles that describe her love of it on an online platform called Medium. Despite the pandemic, Evita has not let that hold her back from practicing toward her ultimate goal of competing in the Olympics. 
"I have had discouraging moments but it is not something I have focused on and let take hold of me," she said.
She has been practicing all this time in her basement and has had Zoom sessions with her coach to help her prepare for this summer. 
Alongside all the practice that she has been doing for the Olympics, she has recently virtually completed her first year at Columbia University and plans to major in psychology. She would even love to write her own book one day. One thing is certain: She has a bright future ahead of her!
Evita is thrilled to possibly be able to take on the role of participating in the Olympics. 
She is not going to let a global pandemic keep her from experiencing that dream she has always wanted. Hopefully, Evita is able to make it to the 2021 US Olympics and we can see all that grace and talent that she is able to bring to the Olympic floor.
–June 21, 2021–