Exclusive Interview with Payton Moormeier
Find out what's new with Payton Moormeier, breakout TikTok star and singer songwriter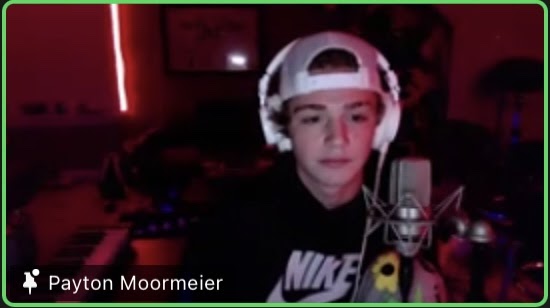 Seventeen year-old singer/songwriter Payton Moormeier is one of TikTok's biggest stars. With over 13 million followers, he's a success story for the ages. I recently had the amazing opportunity to interview him at a Zoom press conference with other student journalists.
"What's up guys, I'm Payton," he began. "I make music, I do stuff online, and Tiktok. I do a lot of stuff online, it's my job."
He's selling himself a bit short, though, because while having a massive online following isn't something to sneeze at, he's also an incredibly accomplished musician, and his new song NEVERMIND is releasing Friday, February 12.
"It's one of my favorite tracks that I've ever, like, made, so I'm really excited to drop it and give it to the world."
Payton woke up every morning to his stepdad blasting Metallica, and immediately knew that what he wanted to do was music. Being homeschooled, he had all the time in the world to teach himself how to play guitar, and at 11 he decided acoustic was the way to go. "That's what I thought the ladies would be into," Moormeier said.
As a young creator, he has to be constantly aware of his presence at all times. "There's a responsibility you have as an influencer to encourage the younger generation, everything you post you have to watch what you're doing because you always have to be on alert and be the influencer that you need to be," said Moormeier.
Q: "Do you feel as though you're missing out on 'normal' teenager things?"
A: "Yeah, like half and half, you know what I'm saying? It's always weird to go anywhere with it. If I'm hanging out with people for the first time and like, a group of fans will come up to me and start talking about my social media and stuff, it's like different for them. My lifestyle is very different from anybody else that lives where I live, so it's always the stereotype around it has put the most impact on my life. About me doing TikTok, all this stuff, so you just carry that stuff on your back. Everytime I go out, it's like "I am a TikToker, you know?"
Knowing his fan base consists of many different artists all trying to do the same thing he did, Payton gives back with his scholarship "The Artist In You." The scholarship is for independent artists releasing music unsigned to a label, with all production costs being paid out of pocket. He wants to encourage and help out other independent artists as a way of giving back to his fans.
You can find Payton on Instagram, TikTok, Twitter, and Youtube. You can stream his music on Spotify, Apple Music, and any other platform. Make sure to keep an eye out for his latest track, NEVERMIND, dropping 2/12/21.
(Note: This  is a reprint of a story originally published in The Anchor. Read the original version HERE.)
–Feb. 11, 2021–