Raising voices amid the tear gas
March In Iowa City like many others around the country when protesters and police meet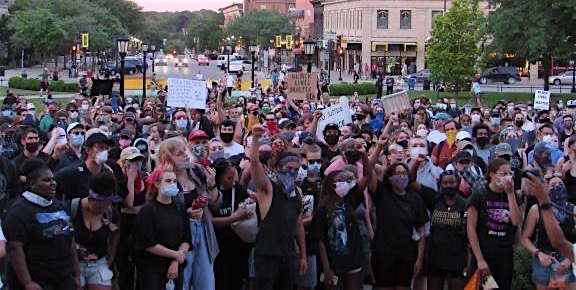 In an era where living rooms became classrooms and basements became gyms, it is no secret the world is experiencing uncertain times. Despite a pandemic, many individuals across the nation are stepping out of their homes, using their voices to demand justice for the Black lives ended while in police custody.
During a protest June 5, protesters were heading toward I-80 when officers from the Iowa City Police Department fired tear gas. Kaiya Luethje, an incoming junior at the University of Iowa and an Iowa City West High School alum, was in his apartment when the incident happened.
"
It was pretty emotionally nerve-racking and my mind just told me to get away from it as soon as I can."
— KAIYA LUETHJE, on the use of tear gas on marchers.
"I was watching TV when I heard loud bangs, sounded sort of like thunder and some screaming in the backyard. When I went to go check, it was two people that got tear-gassed," he said. "I went outside and saw smoke [tear gas] going down the road and people running away from it."
Although Luethje was familiar with teargas, experiencing it was a different view.
"I've seen footage of tear gas being used before but I never realized how loud the canisters were and how, even from afar, it can make your eyes feel uncomfortable," Luethje said. "It was pretty emotionally nerve-racking and my mind just told me to get away from it as soon as I can."
According to Luethje, the incident was nothing close to sane.
"[It was] chaotic. There's just so much going around you. Screaming, crying, cars honking, people running away, the tear gas itself, there was so much to process in a short period of time," he said.
Luethje stepped out of his apartment to examine the situation and gave milk and water to the protesters who were gassed, while feeling loads of adrenaline.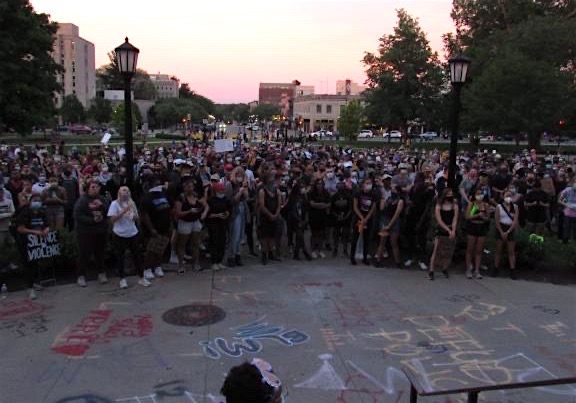 "Some other onlookers were shocked that the police used tear gas on the protestors," he said. "I think the neighbors were just as in awe as I was that this crazy thing was happening right outside where we lived." 
Iowa City West High School sophomore Josh Hurtado was at the protest when tear gas was fired four or five times, he said, along with a few flashbangs.
"It stung real bad around my eyes. Like it stung so much my eyes got watery and it got hard for me to breathe as well. It all went down real quick," Hurtado said. "My friend … and I were taking pictures and videos not more than three meters away when it happened. We heard them and ran fast [in] the opposing direction to safety. We then made sure everyone was OK, I was handing water while we were recording."
"
If you think staying safe from [the] coronavirus is more important than rectifying police brutality, racism, and the innocent killing of George Floyd then something's wrong with you."
— JOSH HURTADO
While coronavirus cases are increasing across the nation, the ongoing pandemic didn't stop Hurtado from protesting for what he believes in.
"I didn't have any hesitations about protesting during a pandemic and won't have any. If you think staying safe from [the] coronavirus is more important than rectifying police brutality, racism, and the innocent killing of George Floyd then something's wrong with you," Hurtado said. "I understand those who have family members that are in more danger from [the] coronavirus. But to those who don't, I can't respect that. I'd rather catch COVID-19 by protesting downtown, documenting everything, than staying home doing absolutely nothing at all."
Junior Molly Wilson strongly believes in the movement, but still follows the CDC guidelines during protests to avoid the spread of COVID-19.
"Sometimes I do have hesitation about protesting during the pandemic, but I am always sure to wear my mask and social distance as much as I possibly can," Wilson said. "People of color don't have a choice to face police brutality and many other things. I, on the other hand, have a choice to join and support protests, which was a very easy decision for me."
For Wilson, the protests are for her to recognize and use her white privilege to support the Black community.
"I decided to go protests downtown to gain perspective, to listen, to educate myself, and be a part of something that is bigger than me. I have a lot to learn and going to protests is the least I can do as a white privilege teenager," Wilson said. "It's important to elevate those who speak out on Black Lives Matter and use your privilege for good and not for silence."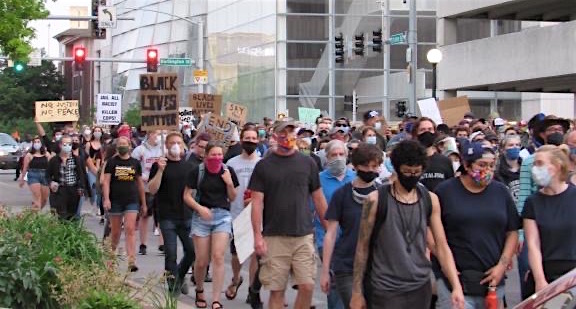 As a result of the Black Lives Matter movement, an issue that was once hidden, has been put into the spotlight.
"Thinking about it … I realized that police brutality is a greater problem than I originally thought before going to the protest. It's honestly terrifying." Hurtado said.
By raising her voice in downtown Iowa City, Wilson hopes to accomplish equity for people of color.
"I hope to help people of color get [the] justice they deserve," Wilson said. "Another big goal is to defund the police which would distribute money to other funds such as health care, education and social work."
Similar to Wilson, Hurtado also supports the defunding of the police and has been attending many protests in Iowa City. He stressed the importance of the protests, and believes they'll benefit in the future.
"The protests that I have been going to ever since they have started mean a lot to me. They're something that makes me feel like I'm doing my best for a better world," Hurtado said. "I feel like these protests will pay off in the near future and when it does I will feel really proud of myself and of all of those who have gone, spread the word, and supported BLM."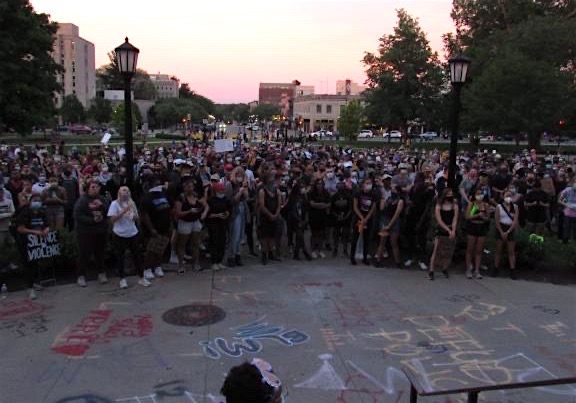 –July 2, 2020–
About the Writer
Hanah Kitamoto, HiE correspondent
Hanah Kitamoto is a sophomore at Iowa City West High School and a reporter for her school newspaper, West Side Story. She is also a yearbook staff member...